Oily Skin 101: Everything You Need to Know About the Best Skincare Treatments from a Top New York City Aesthetician
Jordana Mattioli reveals everything from the perfect routine to the products that should always be in your anti-aging arsenal, and more.
---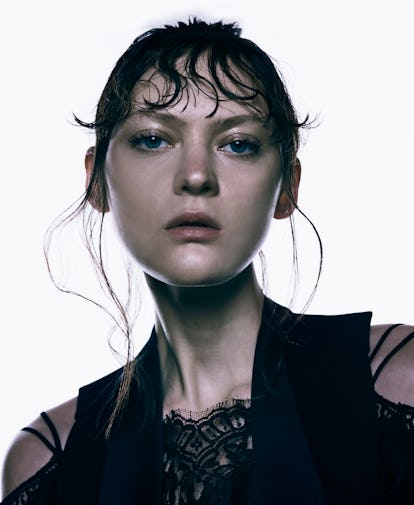 New York City-based medical aesthetician Jordana Mattioli got into the skincare business in 2001 because she personally suffers from oily skin.
Naturally, Mattioli, who practices out of the Upper East Side's Complete Skin MD, is something of an expert when it comes to the matter. "I could talk about oily skin all day," she laughs. As New York's go-to guru for oily skin, Mattioli regularly treats unnamed but notable models and actresses, and has become sought after for her innovative treatment and techniques for battling oily skin issues (along with other concerns, like aging and acne). Here, she shares the perfect skincare routine, all the products you need to have in your beauty cabinet, how to get glowing skin for the holiday party season and more.
What is the perfect routine for oily skin?
The two product categories that you should absolutely have in your routine if you have oily skin are an acid exfoliant and a lightweight hydrating serum (instead of a cream or lotion) because all skin needs hydration, but oily skin doesn't need the extra emollients in a thick moisturizer. The perfect routine for oily skin is as follows.
DAY
WASH: Gentle water soluble cleanser, either a gel or foam. If your skin feels super tight after washing then you should try something gentler. Avoid astringents, they just trigger more oil.
TREAT & HYDRATE: Start with a serum, gel, essence, or even a hydrating toner. Ideally it should be antioxidant rich, also with humectants, and ingredients that benefit oily skin, like niacinamide. Dab on any acne treatment if needed, then go in and dab a lotion only where needed but no need to slather it on. If you have an oily t-zone but your cheeks are dry, then just dab lotion on your cheeks!
EYE TREATMENT: Look for a gel or serum texture if you also are oily around the eyes, otherwise a cream is ok.
SPF: I prefer zinc based mineral sunscreens, it's a great soothing spf ingredient that is also beneficial for oily skin. Some zinc spfs tend to leave a white tint so unless you are super pale, find one with a tint. This can even take the place of makeup!
NIGHT
DOUBLE CLEANSE if you wear makeup or multiple layers of spf. This could be a makeup wipe or an oil or lotion cleanser to dissolve your makeup–then follow with your gel or foamy wash.
ACID EXFOLIANT OR A RETINOL You should have both and alternate nights with them. Liquid formulas like gels or serums would be ideal. Look for ingredients like glycolic acid and/or salicylic acid. Oily skin has a thicker pore lining and usually more build up then other skin types so an acid exfoliant will remove that build up so oil doesn't get trapped and clog. Retinols builds collagen and also shed the lining of the pore- perfect to treat oily skin while also preventing wrinkles.
HYDRATE. It's ok to use something different then what you put on in the daytime, but totally optional.
EYE TREATMENT
WEEKLY Clay masks can be great for balancing skin and absorbing excess oil.
When it's cold outside, what types of products and skincare treatments do you suggest for people with oily skin?
Adding a layer of a hyaluronic acid serum is sometimes all oily skin needs to fight colder dry air, it's a good start to layering products for winter. Seasonal changes are the best times to get a facial to just reset your skin by getting in some good exfoliation and starting fresh.
What's the biggest no-no for people with oily skin during the winter months?
Don't pile on moisturizer or switch up your whole routine if you are feeling dry just yet. Try putting a humidifier in your bedroom first, and make sure you are drinking enough water and eating well. I sometimes find myself over the winter eating more sugar and carb comfort foods, and that will totally affect your skin–get in some green juices and omega supplements!
What are the most common skincare issues you are seeing with your clients today?
The first time I see someone it's usually because they have a concern, with the most common being adult acne or wrinkles, or both.
What are some treatments you do at your office that are particularly good for prepping your skin for the holidays?
My favorite party prep treatment is combining a light 'no downtime' peel to resurface and brighten up dull skin, an LED light session to brighten (a machine that infuses vitamins deep into the skin), then some oxygen to hydrate. I use an LED by Omnilux, which has been granted more FDA clearances than any other LED device on the market. My vitamin infusion machine uses technology that is stronger than ultrasound, I can get ingredients where they need to go to make changes in the skin fast.
What's the newest anti-aging treatment you are doing these days?
Micro needling with PRP (platelet rich plasma) is pretty incredible. There's so many areas on the face and neck that just don't respond to thicker fillers, especially fine lines. Microneedling on its own gives me great results but combining it with PRP has been giving my clients even better, faster results. First the doctor comes in and take a vial of your blood which gets spun in a centrifuge to separate out your red blood cells- then the yellow substance that's left is a concentrated liquid full of platelets which are a natural source of growth factors. So the micro needling is creating tiny microscopic wounds so your skin's response is to kick in natural collagen and the growth factors that I apply while I'm needling get into the deeper layers of the skin. It's about 48 hours of downtime but the skin looks incredible after, and continues to improve over the next month.
What's the number one anti-aging question you get these days?
I have two… When should I start Botox, and what do you think of Rodin and Fields? Most of the line is great except for a few products, but they aren't doing anything revolutionary.
What are the overall biggest skincare mistakes people can make?
The number one mistake people can make it changing their whole routine at once. If your skin likes or doesn't like something, it's important to know what that product is. Experimenting with professional-only products at home is a bad idea. Unfortunately, I've seen really strong peels or long needle micro needle rollers on eBay or random websites.
I saw you recently posted on your instagram about overpriced gold face masks. What are some other overpriced beauty products/treatments that are currently trendy (especially on instagram) that people should be wary of?
I recently had a client ask if she should repurchase a $900 serum that has meteorites in it. That is a hard NO. It's always something really rare or expensive that finds its way into skincare—caviar, gold, diamonds, meteorites! No wonder clean beauty has been seeing huge growth. I think consumers are getting back to basics that are tried and true and avoiding the fluff. The black mask trend has died down, thank goodness. Innovation is so important but there's so much ridiculous hype and marketing in the skin care/beauty industry too. When it comes to new ingredients, I like to wait and see the research, studies, and science before playing around with them.
What products do you consider most essential to your personal skincare routine?
I think every step in my routine is an essential! If I had to pick one thing I couldn't live without though, it would be acid exfoliants. They keep my oily ,acne-prone skin in check and I alternate a few that I really love.
What is your favorite product for lips in the colder months?
Henne Organics Lip Tints for daytime to give lips nourishment with a hint of color, and Aquaphor Lip Repair at night if they get really chapped.
What's your best recent discovery?
I'm really into the Dermaflash device. It's dermaplaning you can do at home without risking cutting yourself or irritation. Waxing makes me so irritated, and as much as I love dermaplaning, my skin gets red for days from it. Dermaflash gives you all over exfoliation and takes off peach fuzz at the same time, I do it once a week.
Related: Everything You've Ever Wanted to Know About Essential Oils
The Secret to Perfect Hair and Skin? Don't Hold Back on the Oil
Inspiration from W's November 2015 issue.

Photograph by Diego Uchitel, Styled by Jessica dos Remedios; Hair By Romina Manenti at Home Agency; Makeup by Lena Koro for Nars at TraceyMattingly.com; Model: Vasilisa Pavlova at Supreme Management; digital technician: Hugo Arturi; photography assistants: Basil Baucher, Scott Simpson; hair assistant: Katharine Cali
This product can be customized to reduce redness, minimize pores or brighten skin tone.

Kiehl's Apothecary Preparations, $95, kiehls.com
For a nice, dewy glow, I dab my cheeks with this after I'm done applying my makeup.

Diptyque Infused Face Oil, $75, nordstrom.com
I pat this lavender-scented body oil on my arms and legs.

Rodin Olio Lusso Luxury Body Oil, $130, oliolusso.com
At nighttime, I crack open one of these spread it on my face. If I'm feeling extra-decadent, I'll use a second one on my décolletage. I told you I didn't skimp.

Estée Lauder Advanced Night Repair Intensive Recovery Ampoule, $110 for 60, esteelauder.com
Rosehip and evening primrose oil balance the complexion, while grapeseed and apricot kernel oils hydrate.

Nuori Perfecting Facial Oil, $69, abchome.com
Frizz controlling, split-end sealing, dry scalp soothing—this oil is a curly-haired goddess' dream, thanks to the abundance of American palm seed oil, broccoli seed oil and coconut's fatty acids.

Ouidad Mongongo Oil Multi-Use Curl Treatment (out next month), $38, ouidad.com
After a dip in the beach, I skip the towel, let myself air dry, then spray this divinely silkening concoction of grapeseed, argan and olive oils do their stuff.

The Spa at Rosewood Castiglion del Bosco Energising Body Oil, $84, email: cdelbosco@rosewoodhotels.com
Co-founder Deeyn Rhodes suggests enjoying this with a diffuser but I like it straight up, and by that, I mean, keeping it on my desk and inhaling it whenever stress looms near.

Nannie Inez Uplifting Essential Oil Concentrate, $29, nannieinez.com
Six plant oils, including sesame seed, sunflower and almond, conspire to soften even the roughest spots of the body.

Aveda Tulusara Radiant Oleation Oil, $49, aveda.com
Coat dry, damaged hair with this oil for ten minutes once or twice a week before shampooing and watch it return to baby soft silkiness.

PhytoElixir Subtle Oil Intense Nutrition, $40, Sephora.com