Everything You've Ever Wanted to Know About Essential Oils
Shrankhla Holecek incorporated centuries of research into Uma, her line of body oils. And she thinks coconut oil is overrated.
---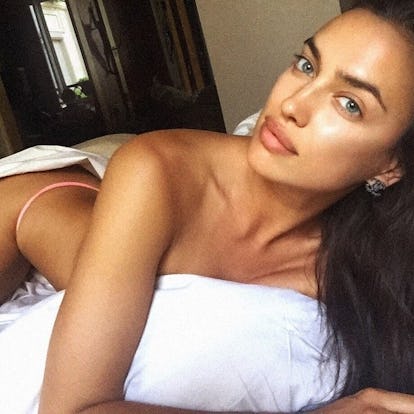 In a recent interview, the Russian bombshell Irina Shayk waxed poetically about the powers of essential oils. She swears by them. Well, Shrankhla Holecek is something of an expert. Her family owns and operates a large essential oil supplier in Northern India that counts everyone from local royalty to behemoths like Estée Lauder and Tom Ford as clients, and she has been using their products as part of her daily beauty routine from before she can remember. "Babies in India are massaged head-to-toe every day," she explains. "There's an oil for everything. Even thicker eye lashes!" Now a resident of Los Angeles, Holecek has incorporated her family's 700 years of knowledge to create Uma, a line of oils that address everything from acne to insomnia which launches this month at Shen Beauty and umaoils.com.
Do you have a favorite oil? I'm extremely drawn to Sandalwood oil. It grounds me emotionally, and, at the peril of sounding like an airhead, I feel like a real princess when I'm wearing it! (This may have a little to do with the fact that sandalwood farming was banned in India about 300 years ago, by the ruling king who believed that only the royals should have access to it!) I can't say enough good things about this underrated, rare oil. It is incredibly effective at creating the most luminous of complexions and doubles its worth by also having the most exquisite aroma.
What's your least favorite oil? I'm going to invite the ire of many by saying this, but I'm not the biggest fan of coconut oil. It is highly comedogenic so it will not work for all skin types, and it always leaves me a little sticky and it stains my clothes! I realize I'm probably being a bit of an oil snob. I'm entirely devoted to highly absorbent oils because I believe an oil's real value comes from what it is able to do under your skin. An oil like coconut, with its large molecular size, would do little beyond adding some topical moisture.
If you could have only one oil, which would it be? I suppose I should say the aforementioned sandalwood, but knowing the incredible skincare properties of frankincense oil, I probably would have to pick that. It's deeply restorative and anti-aging, and works beautifully to turn skin cells over so you don't wrinkles or get dark spots. It's like a retinol but without the pesky drying or skin thinning!
How do you use them? I love using oils because they have this forcing mechanism whereby I find myself indulgently massaging my skin or neck even when I'm running out of time! I strongly believe that a lot of benefits (firming, detox) come from giving your skin a little gentle exercise, so I spend some time "creasing out" fine lines with oils. A good rule is to use your forefinger and thumb to push your skin in the opposite direction that it goes when frowning or squinting – e.g., pressing your eyebrows away from each other to deal with those vertical lines between brows, or placing your forefinger on the temple and thumb on the top of your cheekbone to gently stretch out crows' feet. You'll see results rather quickly with facial exercise, and oils pair beautifully with them!
What mistake do you see Westerners making with oils? A little goes a long way. You don't need more than a few drops per application to cover your entire face. Your skin is primed to absorb face oils, and the nutrients and active ingredients within, because they mimic what already exists in your dermis, which means you get more results with less product. Oils, at least the right ones, are beautiful in that they can very often serve as both your serum and moisturizer. Too many products aren't necessarily going to help your skin – it may lead to wax build up or even sensitize your skin!
What is the biggest mistake or misconception surrounding oils? The biggest misconception around oils is probably that oily or acne prone skin must be stripped of all oil! If you strip skin of all moisture, it will overproduce to try and compensate. Your body's natural processes are your biggest defense against imperfections, so beauty rituals should always work to strengthen them! The right oils— such as grapeseed, jojoba, clary sage—can actually signal to your skin cells to moderate its oil production. Think about it. Your skin is made up of fat (oil) cells, so how could oils do it harm? Sure, steer clear of comedogenic ones like coconut or avocado if you have oily skin, but don't avoid all!
You didn't always want to go into this business, though. What prompted you to shift gears? Admittedly, when I first moved to the States I wanted to get as far away as possible from my "ethnic" identity. The last thing you'd hear me wanting to talk about was my heritage! In fact, for a brief period I was obsessed with trying every new, revolutionary chemically laden product I could get my hands on. Sadly, I was hyper sensitive and looking worse for wear quickly. More importantly, though, I think I was growing up to accept who I was more fully, and realized that my individuality was likely going to be my biggest strength and ally. As I grew more comfortable with all I'd grown up with, I was more receptive to the fact that my family had a solution that many were seeking – and uniquely so. Not everyone can bring to market organic skincare that has been grown, and formulated, completely by a single company until it reaches the customer's hands. I was also little disappointed in how Ayurveda was portrayed in many places – shrouded in mysticism, divorced from science and terribly misunderstood. As a woman of science (I'm an engineer by training) I know how scientific and results-oriented Ayurvedic medicine is, so there was also the allure and challenge of educating people on our formulas that drew me to this business.
What's your first beauty memory? I have a few: Overnight hair oil treatments on Saturday. Our scalps were rubbed (and then steamed) and we couldn't wash our hair until the next morning. All varieties of herbs were brought into the mix – hibiscus, yerba de tago, amla – and laid on prolifically into our scalp and hair. Also, Sunday body exfoliation treatment. A paste of gram flour and turmeric blended with honey and milk was layered on my arms and legs, after which I was supposed to lay still for thirty minutes until it was peeled off by my beloved aunt. Oh, the agony of staying still!
Interestingly, we were never allowed to fiddle with our faces! I used my first 'soapy' face wash at 15 or 16, when I'd sneaked one in while I was at boarding school. My mother was very much against the idea of doing anything that messed with skin's natural pH. I was fortunate never to have struggled with acne though, and I do wonder if these Spartan beauty rules had something to do with it!
What was your worst beauty blunder? I'd say it was not realizing how vulnerable skin is when injured/broken, and fiddling with it out of impatience. If I fell as a child and got a scab (or when I got the dreaded chicken pox) I'd think that if the scab or blister was gone, I'd be better off. Big mistake. Huge! Scabs or zits – leave them alone for the least collateral damage, please!
What beauty products are currently in your purse? Oribe dry texturizing spray. I have relatively fine hair and whenever I use this spray it gives me this fantastic volume that's hard to get otherwise. ILIA Lipstick in In My Room. It's a warm, yet subtle, pink that gives me the pop of color I need, without drying my lips out the way other synthetic formulas frequently do! RMS Beauty Lip2Cheek in Smile, which is sublime and goes on effortlessly. I also have Kjaer Weis's Paper Thin Foundation, which is pretty epic. The formula is super light so you can use a tiny bit for a nice finish, or layer it on for more coverage (this is especially good after the long-haul flights I take from India). Since it's a semi-matte formula, I don't have to worry about it my skin looking chalky or dried out. I always have a bottle of an Uma wellness oil, usually Pure Calm, for a little mid-day centering and emotional grounding (something I've come to need more and more as an entrepreneur!) This may sound silly, but I carry around a kids-sized Mason-Pearson brush when I'm traveling. This brush is so reliable and the massage I'm giving my scalp whenever I run the brush through my hair is an added bonus. I also carry a sample size of Uma Ultimate Brightening Face Oil. It has instant skin-brightening ingredients like Rose, Frankincense and Sandalwood and Ylang Ylang. It makes such a difference for my skin, especially right after I've been on a long-haul flight from India and have to dash to a meeting.
What's your 5-minute morning beauty routine? I can't remember the last time I washed my face with soap in the AM (especially since I do a decent cleanse at night!) I'll apply a layer of organic honey on my face before jumping into the shower, then let the shower's steam go to work. Just before I finish, I remove the honey with a warm washcloth and finish with a cold facial rinse. I use rosewater or cucumber water as toner and about 4 drops of UMA's face oils while my skin is still moist. Much of my skincare is fairly clean though sunscreen tends to be my one exception – there's nothing I've found that's completely clean but I believe the benefits of sunscreen outweigh the risk! I typically use just a little concealer under my eyes and a clear lip balm most days that I'm in the office, or a dash of mascara and powder on days that I have meetings.
If you had an extra 10-15 minutes in your routine, how would you spend it? I'd do more for my eyes – cold tea bags or cucumber slices on closed lids. I'd also mask more often (even five minutes with a great mask can do wonders) and dry brush more regularly. I'd also do more for my hair, including overnight oil treatments if I found more time in the AM to dry my hair. I'd probably have a longer, slightly more indulgent massage routine for my face and body, and exfoliate more frequently (with my nut powders and herbs!). You've obviously opened Pandora's box here…
What's your beauty hack? Ice is my go-to solution for instantly perking up skin. Five minutes of ice-rubbing in circular motion gets you tightened pores, a radiant glow, reduced redness and can even lessen the appearance of dark circles. It shrinks capillaries so the appearance of pooled blood under the eyes is reduced.
Is there a beauty professional you can't live without? James Corbett, who arguably brings me back to New York almost as much as my work does. He's a bit of a magician with hair, and a straight shooter to boot. You kind of miss that in LA. Back in LA, Olga Lorencin at Kinara Spa is amazing with facials, and I always love what Anastasia (Beverly Hills) does with my brows!
What's your beauty peeve? There are two and they are related. I get that sometimes in a pinch, you must refresh make up without a good cleanse, but I see too many people just slathering on extra powder or lip gloss with unwashed hands carrying a day's worth of grime, pushing all those germs into the skin, clogging their pores, without sanitizing appropriately and usually for no apparent reason! I do get a little aggravated with over-reliance on make up because too many people forget that they look pretty great even without it. If you must, please apply with clean hands, and ideally on a clean face. Breathing does the skin a lot of good!
What are you currently obsessed with? I've had a lifelong obsession with F. Scott Fitzgerald. Trite, perhaps, but his writing sticks in my memory for its brilliance and longevity. To leave behind something that truly brilliant is so aspirational, irrespective of the path you choose to go down.
Watch W's most popular videos here: