The Man Who Transformed Oprah, Julia Roberts, and Naomi Campbell
Watch these exclusive clips of Karen Elson and Naomi Campbell in Larger Than Life, a documentary that chronicles the life and legacy of the late Kevyn Aucoin, one of the beauty industry's top makeup artists of the '80s and '90s.
---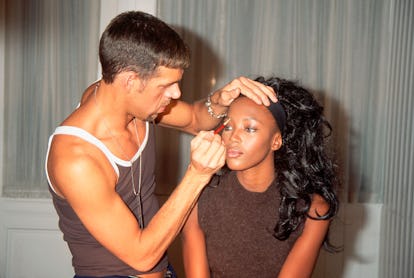 Mitchell Gerber/Getty Images
How do you paint a portrait of a legend with the warmth and depth he himself used to paint the faces of his muses? Larger Than Life: The Kevyn Aucoin Story chronicles the legacy of Aucoin, from his humble beginnings in Louisiana, to his successful rise to the top as a makeup artist in the '80s and '90s, and his sudden death at the age of 40 in 2002.
Larger Than Life opens with a touching quote from Aucoin that summarizes his motives for working as a makeup artist. "The most extraordinary experience for me that I could possibly have with another person is to show them their beauty because some way, somehow in showing someone else their beauty you see the beauty in yourself," he says. "You understand your own uniqueness, your own strengths and your own beauty, you know, and that's possibly, I think, the search we're all in, is to find the beauty in ourselves."
When watching the documentary's interviews with supermodels Cindy Crawford, Christy Turlington, Brooke Shields, Kate Moss, Linda Evangelista, Naomi Campbell and Paulina Porizkova, and Hollywood screen stars like Isabella Rossellini and Cher, it becomes clear that you would be hard pressed to find a star whose makeup Aucoin did not do, or a makeup artist whose life he did not touch.
From Cher to Liza Minelli, Gwyneth Paltrow to Julianne Moore, everybody in Hollywood knew Aucoin; he was one of the first makeup artists to achieve the level of celebrity status that he upheld throughout his life. In this exclusive clip with Karen Elson, the English model and musician shares an anecdote about one of Aucoin's more intense beauty looks:
The film's director, Tiffany Bartok, spoke with W about the somewhat daunting task of telling the story of Kevyn Aucoin's legacy. A makeup artist herself, director Tiffany Bartok was greatly inspired by Aucoin's work before deciding to make an entire feature documentary about him. She recounted the time she met him in 2001, when Aucoin made a cameo as himself on the infamous "Oh my god, she's fashion road kill" episode of Sex and the City. (Carrie calls him a genius.) "He stopped working, came over, took his time. I was a wreck, just babbling on and on, and he heard me completely, and listened," said Bartok. A clip of Aucoin's Sex and the City cameo from the day Bartok met him is included in the film.
Rare archival footage of Janet Jackson, Oprah Winfrey, and interviews with his brother Keith Aucoin and sisters Carla Aucoin Hoffkins and Kim Trahan, also pad out the documentary. "We got to people who had footage, who had things, who had letters, and they began to share things with us. Then we started calling the networks and getting a lot of b-roll footage," recounts Bartok. "That was really interesting too because, some people had not even done a search for Kevyn Aucoin, say, at MTV, for years and years. All these magical pieces kept getting discovered and sent over. It was just amazing."
One of the most astounding facets of the documentary is the depiction of Aucoin's reach as an artist—his legacy inspires the future of makeup artistry and bridges the generational gap between those who were there when Aucoin was working on just about everyone's faces, and today's Instagram-famous makeup artists, whose contouring techniques were surely inspired by the methods Aucoin pioneered. Mario Dedivanovic, known for being one of Kim Kardashian's go-to makeup artists, makes an appearance in the film to explain his discovery of Aucoin's work.
"I emailed Mario and two seconds later he was like, 'Where and when? This man changed my life. I'm there. I want people to know this,'" Bartok said.
Aucoin was a perfectionist with a meticulous eye for what would become iconic depictions of beauty. With an extensive resume that also includes stints as the makeup artist on set for Jackson's The Velvet Rope tour to Madonna's Beautiful Stranger video, Aucoin was everywhere in the '90s, and as the title of the documentary suggests, he was quite literally larger than life. At well over 6 feet tall, Aucoin grew even taller in his adult life, with hands big enough to cover just about anyone else's entire head, as described by a few interviewees in the documentary.
Aucoin discovered later in his life that he suffered from acromegaly, a tumor that he was diagnosed with about 9 months before his death in May 2002. Acromegaly is caused by excessive growth hormones in the pituitary glands, enlarging the forehead and hands of those who are diagnosed with it. Aucoin struggled with pain from his tumor, and even after having it removed, continued to take painkillers for his symptoms. Toxicity from the painkillers caused liver and kidney failure, and ultimately took his life.
One of the most painful scenes to watch includes the singer Tori Amos, one of Aucoin's closest friends, sharing a heartbreaking account of her relationship with him near the end of his life. Bartok explained her decision to include multiple accounts of Aucoin's death, saying, "My decision early on was just to say factually what happened, and it's so loaded in the interviews and people can have a discussion, which is what happens after the movie, about what they would have done, what they wouldn't have done." Bartok plans to begin a dialogue about Aucoin's life, but more broadly wants to create space to discuss addiction and substance abuse. "What did he really die from?" she asks. "Was it addiction or was it medical? I think it really puts a light on addiction and how different it is for each case."
As an artist, Aucoin's genius was his ability to transform superstars into icons. Face Forward, a book he published about a year before his death, includes portraits of Julia Roberts, Amos and Martha Stewart. Naomi Campbell was also a close friend of Aucoin's, and she shared her experience as he did her makeup over the years. "I was not going to go to any other person but Kevyn's chair. There was always a line, but I just was like, I'm not going anywhere else!"
Larger Than Life: The Kevyn Aucoin Story premieres November 16 at DOC NYC, one of the largest documentary film festivals in the United States.
Related: Dishing with Kim Kardashian's Go-To Makeup Artist Mario Dedivanovic