These 1994 Pictures of Kate Moss, Stella Tennant, and Milla Jovovich Could've Been Iconic. But They Haven't Been Seen Until Now.
The photographer Drew Jarrett, onetime London roommate of Mario Sorrenti and Glen Luchford, is publishing them in his new book '1994,' a snapshot of a moment out tomorrow.
---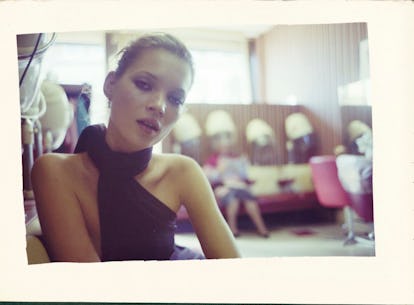 Photo by Drew Jarrett.
In the early 90's, the fashion photographer Drew Jarrett was living in a West London flat with Mario Sorrenti and Glen Luchford in what now sounds like a super-hostel of the industry's leading image-makers. But back then, it was more like two green photographers at the beginning of their careers: Sorrenti was dating Kate Moss, and their "Obsession" campaign for Calvin Klein was still months away; and it would be another quarter century before Luchford would be shooting swamp creatures emerging from lagoons for Gucci. Then there was Jarrett, who was working as a hairstylist on his roommates' shoots.
It was Moss who introduced Jarrett to Sorrenti, and they were quick friends. Along with Luchford, they traveled to Italy, Berlin, Panama, and New York for shoots. At some point along the way, Jarrett realized he was more invested in making pictures than doing hair.
"The transition was a natural thing for me," Jarrett told me via email from Paris. "I got bored. It just felt that it wasn't a creative challenge any more for me, and I started taking pictures of my family, kids, friends, and then models and crew I was working with."
Fiddling with a few cameras—a Rolleiflex, a Pentax Spotmatic, a broken Pentacon Six—Jarrett began taking his own pictures, hijacking his friends' shoots and mining the locations for unexpected angles and, above all, feeling.
"Living in West London with Mario, Glen, Tara Turner, and Lucia Peironi, with many creative and interesting people coming and going, we were (and still are) very supportive of each other—we'd often put our personal film on jobs," Jarrett recalled. "In the excitement of waiting for my film to be processed, I loved the contact sheets I was getting back and the process of editing—the seeming naiveté and innocence of some shots, the cinematic style of the scenes, sorting through and cutting up my favorite frames."
He chopped up his contact sheets and began collaging them into a rough book filled with street photography and impromptu portraits—loose compositions of Corinne Day and Melanie Ward on the beach at Camber Sands in East Sussex, England, or tumbling through the corridors of the Gramercy Park Hotel in New York, where, Jarrett said, they "lived for weeks on end."
Driven to push the images further, Jarrett photocopied the original book, deliberately degrading the quality. "I loved the effect of the marks, lines, colors and messed-up vibe, it not feeling too precious or precise, things feeling a little off," he said. "It was the beginning of establishing my own personal style and approach to taking pictures—less arranged and thought-out and more of a feeling and sensibility, a rawness and roughness. I found a consistent softness that came from not overworking my compositions and instead acting from a feeling of innocence."
By 1994, he felt his project was complete, and Sorrenti christened it with a tag of Jarrett's name. Attempts to publish it, though, were met with blank stares: "People at the time [didn't] fully get it, and me—the montages, my style, etc." Earlier this year, while working with the book publisher IDEA and the long-time i-D art director Dean Langley on his book Guinevere, a celebration of the model Guinevere Van Seenus, Jarrett brought out some of the old pages, their value now readily apparent. Even those at the highest reaches of the industry are not immune from bouts of nostalgia, and as a book 1994 is certainly that: À la recherche du temps perdu but with more Kate Moss.
The book 1994 finds Jarrett experimenting with Barbara Kruger-inflected text overlays and Garry Winogrand smash-and-grab street photography. There's an impossibly young Kate Moss, strutting down a sidewalk in a 10-gallon hat and sequined pants; a smoky contact sheet of the photographer Mark Lebon, the corroding silver gelatin giving it the haunted gloss of a Deborah Turbeville picture; a triptych of a sweaty Stella Tennant doing her best Debbie Harry.
"At the time I was very interested in Diane Arbus, William Eggleston, Danny Lyon, Robert Frank and Emmet Gowin," Jarrett said. "I was very much into films and cinema—Russian, German, Polish movies. It was a natural progression to taking stills."
And there are hundreds more raw cut-outs, of models but also stylists, crew, bemused locals, bystanders caught unaware. Amber Valletta prone on a beach in Panama is given as much billing as Romani Gypsy children in Albania. Kirsten Owen hanging out in Brighton, Milla Jovovich whiling away hours in hotels, Jarrett's dad with a pistol tucked into his waistband, "glue-sniffing children on the streets of Honduras," all cobbled together scrapbook-style and pasted on yellowing pages, like some unearthed relic. Some of the images repeat, appearing as smaller or larger versions of themselves. In this way, 1994 comes close to recreating the actual act of remembering.
Jarrett, who has since produced cover shoots and editorials for French Vogue, W, Visionaire, i-D, Interview, and 032c, credits the process of making the book as a gateway to his career as a photographer, and the development of his eye. As he said of the intervening years since 1994, "My vision consistently spans decades with not too much changing in my approach or results."
Never-Before-Seen Pictures of Kate Moss, Stella Tennant, and More From 1994
Kate Moss in the pages of Drew Jarrett's 1994.

Photo by Drew Jarrett.
From Drew Jarrett's 1994.
From Drew Jarrett's 1994.
Kate Moss in Drew Jarrett's 1994.
From Drew Jarrett's 1994.
From Drew Jarrett's 1994.
Stella Tennant in Drew Jarrett's 1994.
Kate Moss in Drew Jarrett's 1994.
Stella Tennant in Drew Jarrett's 1994.
From Drew Jarrett's 1994.
From Drew Jarrett's 1994.
From Drew Jarrett's 1994.
From Drew Jarrett's 1994.
Kate Moss in Drew Jarrett's 1994.
From Drew Jarrett's 1994.
From Drew Jarrett's 1994.
From Drew Jarrett's 1994.
Kirsten Owen in Drew Jarrett's 1994.
From Drew Jarrett's 1994.
From Drew Jarrett's 1994.
From Drew Jarrett's 1994.
Milla Jovovich in Drew Jarrett's 1994.