The Ultimate Guide to the Perfect Eyebrow Shape For You in 2018
Brow guru Jimena Garcia explains how to achieve the ideal shape and color—for you.
---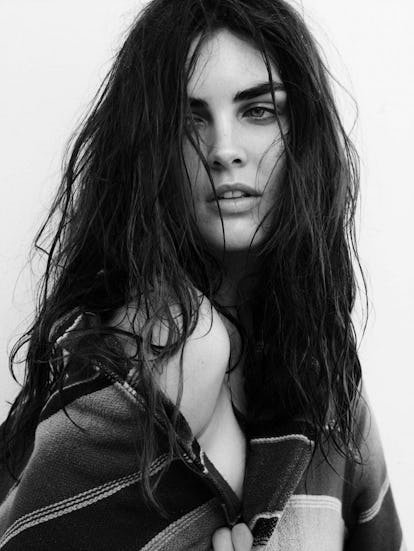 "Mr. America" photographed by David Sims; W Magazine October 2007
It's no secret that when it comes to all things beauty, the upkeep and grueling maintenance of eyebrows have most people running to their nearest brow specialist. And according to brow guru Jimena Garcia, whose clientele flock from Los Angeles back to New York just to have her tweeze, tint, and shape their brows, creating the perfect shape and tint is an art form. When it comes to eyebrows, Garcia explains, it's about finding the right fit for you. Here, she breaks down how to achieve the perfect brow, her favorite shaping techniques, brow kit essentials, and the "ageless secret of brow power".
Why is it time to stop filling brows? What should we do instead? Most people go overboard filling in their brows, and it takes their character away. This uniformity that is happening is so uninteresting, and in the end does not stand out. Having an individual look is what grabs one's attention and creates a personality. I see so many people searching for this "perfect brow"—instead, one should be asking one's self, "What kind of brows looks right for me?" When you minimize the amount of make-up you put on your brows, the texture of the hair pops and instantly creates a more natural beauty, like a Parisian beauty. Instead of filling in your brows too much, try using a tinted brow gel or a clear brow gel and brush them up, or add a softer tone with powder to fill in the areas that are needed to enhance the shape.
How do you find the right hair-brow shade combo? Tinting is a great way to bring your brow to it's fullest natural state. It picks up all of the baby hairs and coats every hair, creating an even tone and shine. Picking the right tone to fit your brow depends of the look that you are going for. For example, you can go as extreme as a Marilyn Monroe, light hair/dark brows and that is a super sexy look! Or, you can have a very light shade that will bring out your brow, and no one could never tell that you had them done at the same time giving them a bit of a pop. On occasion, I even just put a little tint towards the end of the brow, this give the illusion of a longer brow. It's an art form to know how to mix color and apply. You can really change your look and it's a great way to get up and go, no fuss brows.
How do you identify what brow shape best suits the person? I remember growing up near Al Hirschfeld's Madison Avenue gallery in Manhattan; Al was an American caricaturist. Walking by his gallery after school as a little girl, looking at the window, made me understand the importance of a line. How one line, one curve can change everything I love shape, art, architecture, all aesthetics. Doing brows is a creative process for me. It also becomes a collaboration with the client and what they would like. When a client comes in, I start to see their movement, how their features express themselves. Then I start to have a feeling of how their shape needs to be sculpted in order to extenuate their best features. Is it a bushy brow, thin brows, soft, spiky; brows that have an strong arch, straight, trimmed hair, or should their hair be fluffy? Everyone has different bone structure, personality, and style. Taking all of this into consideration, I start to tailor-make their shape. Don't worry about trends and trying to fit into them. What's the right brow for you?
What should we do in between brow appointments? I love the idea of self-care, rituals to maintain hair health: Brushing, massage stimulating hair growth, exfoliation for ingrown and conditioning with a mix of castor oil, vitamin E, aloe gel.
What are your go-to brow products? Hourglass Arch Brow Sculpting Pencil ($34, sephora.com), Glossier Boy Brow Grooming Pomade ($16, glossier.com), and Kjaer Weis Highlighter in Ravishing ($56, barneys.com)—apply it right under your brow, from the middle to the outside tip. It highlights the brow and opens and lifts the whole eye. Chanel Brow Power Duo ($50, chanel.com) has different color tones in one palette; it's a good idea to strengthen the areas that need to pop and soften the areas that are too heavy. This creates a better flow and look for the brow.
Why do you love castor oil? I love to look at history and the ancient traditions woman and men used with naturals. Castor oil has been used for medicine or treatment for over 6,000 years. It was used for hair health and growth. It's a good to use with a spooly; add a bit of castor oil and brush. A great natural treatment to take care of one's brows.
How did you get into brows? I studied fine art and art history. At one point I took a class at Parsons for make-up. That is when I started to shape brows, and understand that everything is in the details!
What do you want to see more of? Less of? I would love to see more confidence in beauty, more freedom, more individuality. Everyone looks the same. I ask myself, Why? And how can we change this? In my recent move to L.A. from New York, I started to change my beauty routines. I wanted to try different things. I started to not use as much make-up. At first it was like a loss of identity, but when I really started to think about it, it felt more authentic. I started to realize feeling beautiful was not in the hands of my foundation or brow powder, but in the self care and maintenance. With my brows, it was about them being groomed well and having my brow spooly to fluff them up during the day. It's so chic to have a fresh face and wow brows! A beautiful lip color or the right cat liner, that's it! Less is more!
What are your 2018 predictions for brows and beyond? I believe that there is a division in aesthetics, you are either trying to make everything super perfect or you are super natural. Both are interesting and are their own pursuits. The prediction in 2018 is asking ourselves, What brow is best for me? Trying all these amazing products that are coming out, and having fun! Creating a tailor-made look, not having to conform to trends, finding your best beauty.
The Ultimate Guide to Enviable Celebrity Eyebrows, from Cara Delevingne to Lily Collins
Actress Jennifer Connelly wears her full brows brushed up and straight.

Getty.
A signature feature for the actress, Lily Collins wears her bushy brows untamed.

John Shearer
Singer Solange keeps her arched brows full and round.

Getty.
Kim Kardashian West is known for her well defined and shaped brows.

Getty.
Victoria's Secret Angel Taylor Hill lets her full brows go wild on the red carpet.

Getty.
Model Gigi Hadid makes the case for brushed up arched brows.

Taylor Hill
Actress Emilia Clarke keeps her untamed brows full and straight.

Getty.
Actress Emma Watson wears her defined brows styled and brushed up.

Getty.
Model Emily Ratajkowski wears her full brows slightly defined and rounded.

Getty.
As one of the model's most prominent beauty traits, Cara Delevingne knows how to own her bold brows.

Getty.
British model Jourdan Dunn keeps her brows ultra sleek and defined.

Getty.
Model Karlie Kloss wears her brows defined with a slight arch.

Getty.
Model Irina Shayk is all about the natural rounded brow.

Getty.
Actress Charlize Theron wears her thin brows well shaped with a slight arch.

George Pimentel
Actress Kristen Stewart wears bold straight brows full and untamed.

Getty.