How To Get Glowing Skin All Year Long, According To Gigi Hadid's Makeup Artist
Celebrity makeup artist Patrick Ta shares how to effortlessly transition your summer makeup bag for the winter.
---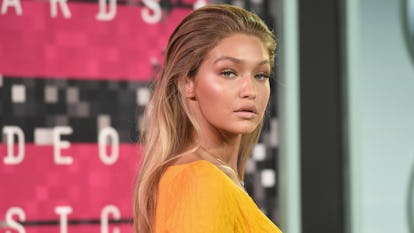 Jason Merritt/Getty Images
The days of sun-kissed skin and salty beach waves may be long behind us, but that doesn't mean that we have to give up that summer glow just yet. As we quickly approach the winter season, it's time to restock our makeup bags and thanks to Gigi Hadid's makeup artist, Patrick Ta, whose ever-growing list of A-listers include Blake Lively, Emily Ratajkowski and just about every Victoria's Secret Angels, the solution to a flawless winter glow is all in the makeup. From emerald green and cranberry eyeshadows to oil-based foundations and hydrating balms, Ta revealed that transitioning your winter makeup bag from the summer is easier than you think. Here, Ta breaks down how his winter makeup essentials, how to maintain your makeup bag year round, and his go-to beauty routine for the ultimate holiday makeup look.
How can we transition our makeup bag from the summer to the winter season?
Switch up your eyeshadows and play with greys, emerald greens, cranberries, and black. I love a good burgundy smoky eye with a neutral lip during the winter or a black liner that frames the entire eye.
Does winter makeup necessarily have to mean heavier products?
I think a healthy glow is suitable for any time of the year, but focus on your skin care routine pre-makeup for that natural lit glow from within. Also, think outside the box and use products like Iconic London Illuminating drops that can double as a cheek highlight and shimmery shadow base.
How do you prep the skin in the winter before makeup?
It's super important with the change in weather to hydrate your skin, especially when applying foundation. I swap out my water based moisturizers for oils like my favorite La Mer Renewal Oil ($130,nordstrom.com). And if oils are not your thing, the La Mer Moisturizing Cream is my other go-to.
How do you maintain your makeup bag year round?
Use bags within bags and organize your makeup by product; this makes finding everything much easier and tidy. Mascara, concealer, brow products, and brushes work all year round, but be sure to clean your brushes once a week. This keeps bacteria away and also makes your products apply much better.
What are your favorite travel friendly winter beauty products?
I can't live without my La Mer Lip Balm ($60, sephora.com) during the dry winter months. I literally carry one in every bag and it's so tiny that it makes the perfect travel item. I also love my La Mer Hand Treatment Cream, its 3.4 oz size makes traveling through airport security a breeze.
What is your go-to winter makeup look for the holidays?
A bold red or burgundy lip works for everyone. To make this look about the lip, keep the rest of your makeup very minimal and clean, add some mascara and a monochromatic blush on the cheeks and you will stand out at any holiday event.
Gigi Hadid's Makeup Artist On His Go-To Products For the Ultimate Holiday Makeup Look