Gigi Hadid Reveals the Lipstick She Named After Sister Bella
Supermodel Gigi Hadid and makeup artist Erin Parsons open up about their favorite makeup products and techniques.
---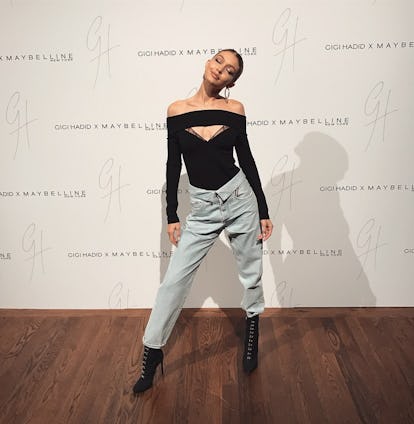 @gigihadid
On late Friday afternoon in the West Village, makeup aficionados gathered in good company alongside supermodel Gigi Hadid and her makeup artist, Erin Parsons, to talk all things makeup. With her newly launched Gigi Hadid x Maybelline collection, Hadid and Parsons opened up in an intimate class, sharing their individual makeup techniques and favorite products. Wearing a neutral cat eye and radiant skin in a perfect blend of her Coast to Coast palettes, finished off with glittered Maybelline imprinted nails, Hadid explained her multi-palette collection, saying it's for "people who are maybe intimated to have to do full glam everyday." "It makes things easier, more mixable and matchable and easy to use and wearable," she added.
The model continued on to share the inspiration behind her line, revealing she named the red lipstick "Khair" after her little sister Bella's middle name because,"Bella's favorite color is red and it's kind of the red she has worn her whole life." However, admitting that these days she wears more red lips than her supermodel sister, Hadid's loves for a classic nude lip remains tried and true. "I am nude a lipstick enthusiast," Hadid said, "so my first thing when I was making this collection was we need to make nudes. I always wore nude pretty much until I started working, I started wearing colored lips, but before that, in high school my first makeup was Maybelline 24 Hour Concealer, and I used to put it on my lips because I hated how dark my lips were. And I still do that." While Hadid may be the master of the DIY nude lipstick, here are a few of the best tips and tricks we picked from Parsons for the ultimate smokey cat eye.
On using blush for eyeshadow:
"Gigi taught me this. Gigi would always take the blush and put it on her eyes. So she would do her shadow as normal, put a little bit of the blush and she would just then blend it in. And as a makeup artist, you will learn from people who aren't professional makeup artists because they actually show you techniques you don't use."
On the perfect smokey eye:
"I know a lot of people like to put a primer on or a light ivory shadow, I always just do a concealer first and that's it. I go right into the shadow. Because I think when you do that really light shadow all over, sometimes you dilute your pigments in your powder, so if you want the most from your pigment go straight into your concealer."
And, a pro-tip for the perfect cat eye:
"I know a lot people just put on the liquid liner, but I always like to layer and the reason is because it makes it super jet black, and velvety and it lasts so much longer when you layer the two products together. Also, I think it's easier to create the wing this way."
Exclusive: Kendall Jenner Proves Her Skills as a Photographer with Backstage Images from Paris Haute Couture
Putting the finishing touches on Bella Hadid, backstage at the Miu Miu resort presentation.

Photographs by Kendall Jenner
Joan Smalls and Lara Stone (from left) chatting at Miu Miu.

Photographs by Kendall Jenner
Photographs by Kendall Jenner
The lineup at Fendi Haute Fourrure.

Photographs by Kendall Jenner
Karlie Kloss getting curls for a shoot with Mario Testino.

Photographs by Kendall Jenner
Last calls before the Fendi show.

Photographs by Kendall Jenner
Photographs by Kendall Jenner
Photographs by Kendall Jenner
Watch: Gigi Hadid Dramatically Reads "Popular"
Gigi Hadid Dramatically Reads "Popular"