Gigi Hadid's Maybelline Collection Has Already Sold Out In the U.K.
Supermodel Gigi Hadid unveils the design of her Gigi Hadid x Maybelline makeup collection.
---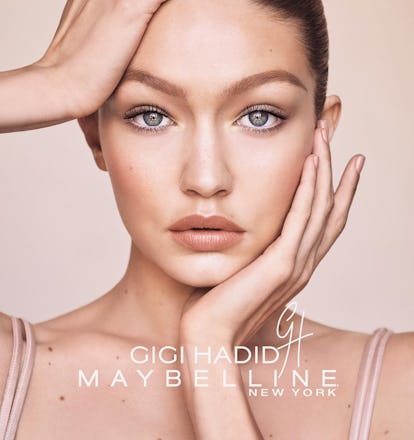 After announcing earlier this week in a series of Instagram posts of about her upcoming beauty collaboration with Maybelline, Gigi Hadid has finally unveiled her upcoming signature line. As a longtime face of Maybelline, it's only fitting that Hadid is taking on her own makeup collection. And after teasing fans with glamorous behind the scenes moments, it's safe to say her debut did not disappoint.
On Friday afternoon in an ecstatic post, the supermodel unveiled her to 36 million Instagram followers the Gigi Hadid x Maybelline Jetsetter Palette. And although the collection, which will be sold at Ulta, has yet to debut in the U.S., Hadid's collection has already made waves in the U.K., selling out in a record 90 minutes.
Explaining the inspiration behind her line, Hadid shared that, "I always wanted a palette that I could throw right in my purse or travel bag and know I have everything to do a light-everyday look, quickly and easily. I didn't want to have to open my makeup bag in the car or on a plane and take all the products out and worry about dropping anything or having somewhere to set it while I held my mirror."
The supermodel to continued share her best multi-tasking beauty secrets, breaking down how to achieve a flawless beauty look on the go. "I love mixing it up and using the lip as cheek tint, the eyeshadow to fill my eyebrows, blush on my eyelids, concealer as a nude lip base, etc.," she said. "It's the most luxurious touch-up ever!!!!!!"
The Jetsetter Palette will include contour powder, bronzer, blush, powder highlight, concealer, lip gloss, eye shadow, black powder liner, a mini mascara, mini blush, liner, eyeshadow brushes and a mirror. And with it's ultra chic packaging and playful colors that resemble Hadid's effortless California girl aesthetic, it's now easier than ever to jet-set like a supermodel.
Related: Supermodel Gigi Hadid Has the Perfect Off-Duty Style in Her Genes
Gigi Hadid Loves Nude Lipstick and Contouring