Gigi Hadid Reveals the Extreme Beauty Trick She Uses to Keep Her Hair Healthy and Shiny
Gigi Hadid reveals her best kept beauty secret for long-lasting shine and healthy hair.
---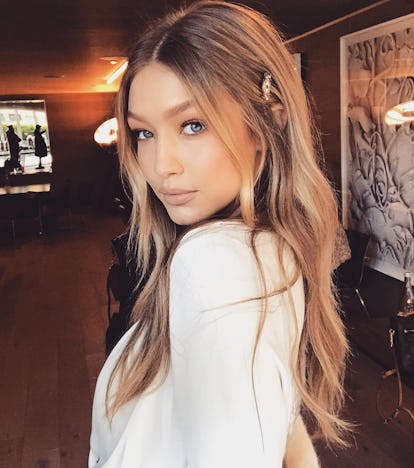 @gigihadid
Cozying up right before the holidays at a intimate luncheon with Reebok on Thursday afternoon in the West Village, supermodel Gigi Hadid and her glam squad gathered to discuss all things fitness, style, and beauty for the new year. And whenever a top model, especially the likes of Hadid, dishes out their best beauty secrets, believe us—we're all ears. With Hadid's longtime hairstylist, Bryce Scarlett, and makeup artist, Erin Parsons, by her side, along with stylist Mimi Cuttrell and trainer Rob Piela, the Reebok model and team opened up in a panel about taking risks in 2018.
And while Hadid has always been experimental with styling her look, she revealed that when it comes to signature golden blonde beach waves, "I'm not allowed to do anything with my hair. My goal is to keep it healthy." And how might a supermodel maintain their healthy, luscious locks you ask? The slightly unhygienic and pretty extreme method might surprise you. "When I have time off, I do coconut oil in my hair and I just put it in a bun and don't wash it," she said. "You can shower, obviously. But just keep your hair in a bun for like three days, keep the coconut oil in and just keep it up, and then at the end when you wash it all out—when you wash it, do shampoo first, then rinse, then shampoo again, because if you do water first then the shampoo doesn't go in and your hair is still oily."
And since Hadid has never been afraid to share her beauty tips with her nearly 40 million fanbase, especially with her latest Gigi Hadid x Maybelline makeup collaboration, taking a cue from Hadid's natural hair and makeup approach may just be the best way to start off the new year in style.
[#article: /articles/5a13258e5424044eb4507cac]||||||