Gigi Hadid, Fresh Off a Phone Detox, Says "Drama On Social Media Is Just Air"
"You have to accept that you can't control everything," the 22-year-old supermodel said at a recent lunch celebrating her partnership with Reebok.
---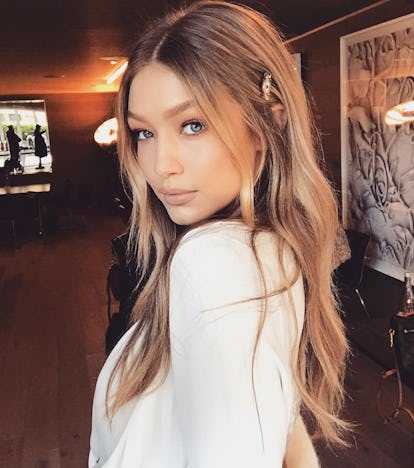 @gigihadid
On a recent, frosty December afternoon, Gigi Hadid had just emerged from a phone detox.
"I just did a week without my phone. Literally off," she emphatically told a cluster of journalists and fashion editors arranged in a rough semicircle in front of her. (This, perhaps, could explain why her social media tribute to friend Taylor Swift on her birthday was slightly tardy.) "Not just social media—literally the whole week with my phone off, and it was amazing." The 22-year-old supermodel was perched on a stool in a West Village townhouse that once belonged to Kate Moss (while, it must be noted, she was dating Johnny Depp); there was a dormant fireplace behind her, gingerbread stacked high on a nearby table, and a Christmas tree to her left. A fresh inch of snow dusted the sidewalk outside—it was just a few days before the holiday season set in—and Hadid, one of Reebok's marquee brand ambassadors, sat beside her stylist, Mimi Cuttrell, her trainer, Rob Piela of Gotham Gym, her makeup artist Erin Parsons, and hair stylist Bryce Scarlett for a panel discussion hosted by the sportswear brand. And, like fellow Reebok ambassador Nina Dobrev, she was extolling the virtues of an iOS-free existence.
"You realize that there's all this drama and s–t going on, and then when you get back to it, you're like, that just passed while I was, I don't know, hiking, whatever," she said. "It's just air. Drama on social media is just air," she continued. She paused. "I don't know if it's actually air, but you get what I'm saying. It floats in the cloud."
After all, when you're taking walks at 5 a.m. to avoid the crowd of paparazzi outside your door, as Hadid said she did during the lunch, and you're broadcasting to nearly 40 million Instagram followers, there's bound to be some drama from time to time. "There's times when I put something crazy on, and then I go on Twitter and everyone's like, 'What the f–k are you wearing?'" she said. "I'm like, 'I felt so excited to put that on, and it made me feel good to walk out the door,' and sometimes, like, you don't wake up feeling like you want to get dressed and walk out the door, so if you put on something that makes you turn into that character or just be excited about looking in the mirror, it makes it more fun to go outside."
While offline, she said, she had been indulging in some new and old pastimes: She went scuba diving for the first time, and she "re-taught" herself how to weave bracelets, à la middle school summer camp. "I made my boyfriend one, my sister one," she said. She had briefly contemplated making bracelets for her professional contacts, too, but while that might work for some brands, "that doesn't really work for, like, Donatella," she added, laughing.
Hadid is back on her phone, back on social media, but she said, heading into the new year, she is "trying to also understand that I will not ever be able to meet everyone in the world and prove myself to everyone in the world," adding that it's "frustrating for me sometimes because I feel like I'm judged in a lot of ways online, and everyone is in that way."
"You prove yourself to the people that you have the opportunity to have a human connection with," she said. "Everyone else is there judging you," she added. "You can't control that, and it's okay, and you have to accept that you can't control everything."
Gigi Hadid's Makeup Artist On His Go-To Products For the Ultimate Holiday Makeup Look