Vittoria Ceretti Explains Why You Should Use Honey On Your Lips and Coconut Oil In Your Hair
Italian model Vittoria Ceretti shares her best kept beauty practices.
---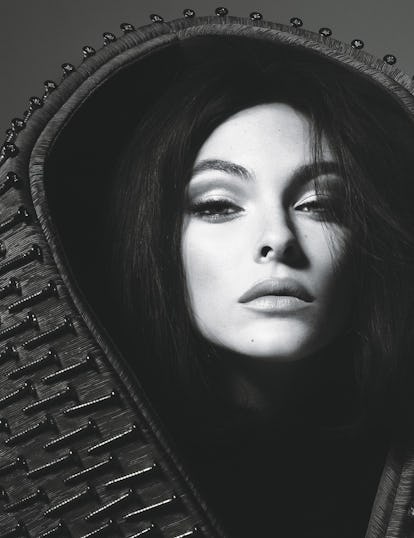 Photographs by Mert Alas & Marcus Piggott; Styled by Katie Grand
Vittoria Ceretti's year is already off to a busy start, from captivating audiences with her porcelain skin and jade green eyes on the runways of Chanel and Alexandre Vauthier during Paris Haute Couture week—where she was also spotting hanging out with fellow model BFF Kaia Gerber—to appearing in the pages of W's latest spread. And with the official start of New York Fashion Week only a few short weeks away, keeping one's skin and hair fresh and hydrated is of the utmost importance. But that's no difficult task for fashion's It Girl of the moment, because when it comes to maintaining her beauty routine on the go, for Ceretti it all comes down to keeping it natural.
Breaking down her best beauty practices, Ceretti shared that when it comes to keeping lips nourished and moisturized, whether you are prepping for the runway or simply trying to combat dry winter lips, making your own lip scrub, like her own personal recipe of brown sugar and raw honey, can help result in a healthy sheen. To keep her morning complexion fresh and rejuvenated, the Italian beauty revealed that to combat swollen eyes in the morning, she recommends putting"cold water, ice cubes, and sliced cucumber in a bowl and wash your face with it," for the ultimate natural glow. And when it comes to coconut oil, the Chanel model takes a cue from fellow model and friend Gigi Hadid and advocates for an all-natural hair mask: "Apply some coconut oil for your hair before going to bed and wash it out in the morning," she said.
Of course, a model that is constantly on the go can't help but reap the benefits of a product that also multi-tasks. "If you don't have make up remover, you can always remove your makeup with some coconut oil," she added.
Vittoria Ceretti, Fashion's Beloved Model of the Moment, Wears the Biggest, Boldest Silhouettes of the Season
Photographs by Mert Alas & Marcus Piggott; Styled by Katie Grand
Photographs by Mert Alas & Marcus Piggott; Styled by Katie Grand
Photographs by Mert Alas & Marcus Piggott; Styled by Katie Grand
Charles Jeffrey Loverboy dress; R.J. Graziano necklace; Gina shoes.

Photographs by Mert Alas & Marcus Piggott; Styled by Katie Grand
Photographs by Mert Alas & Marcus Piggott; Styled by Katie Grand
Gareth Pugh dress; Gina shoes.

Photographs by Mert Alas & Marcus Piggott; Styled by Katie Grand
Photographs by Mert Alas & Marcus Piggott; Styled by Katie Grand
Giorgio Armani overalls and hat; Marc Jacobs shirt.

Photographs by Mert Alas & Marcus Piggott; Styled by Katie Grand
Richard Quinn bodysuit; Tom Ford shoes.

Photographs by Mert Alas & Marcus Piggott; Styled by Katie Grand
Paco Rabanne skirt; Chanel necklace, belt, and bracelets; Miu Miu shoes.

Photographs by Mert Alas & Marcus Piggott; Styled by Katie Grand
Photographs by Mert Alas & Marcus Piggott; Styled by Katie Grand
Marc Jacobs top and turban with brooch.

Photographs by Mert Alas & Marcus Piggott; Styled by Katie Grand
Bottega Veneta bodysuit, earrings, necklaces, and rings.

Photographs by Mert Alas & Marcus Piggott; Styled by Katie Grand
Saint Laurent by Anthony Vaccarello dress.

Photographs by Mert Alas & Marcus Piggott; Styled by Katie Grand Hair by Syd Hayes for BaByliss at Art + Commerce; makeup by Hung Vanngo for Marc Jacobs Beauty at the Wall Group; manicure by Chisato Yamamoto at David Artists. Casting by Anita Bitton at the Establishment NY. Model: Vittoria Ceretti at the Society Management. Set design by Emma Roach at Streeters. Production by Across Media Production; Retouching by Dreamer; digital technicians: Niccolo Pacilli, Giorgio Lattanzi; Fashion Assistants: Oliver Volquardsen, Ogun Gortan, Courtney Costello; tailor: Alison O'Brien