The Secret To Good Hair? Don't Wash It
Celebrity hairstylist, Jennifer Yepez, shares her best hair maintenance tips.
---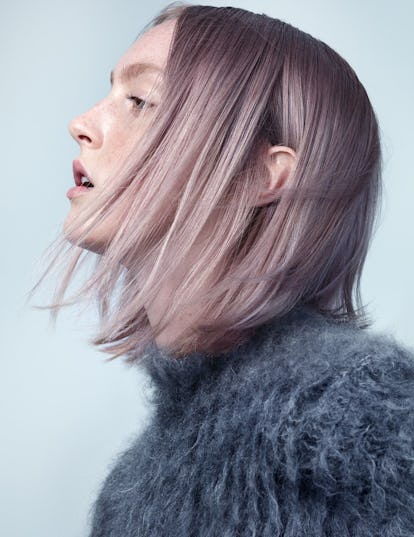 Photographer: Benjamin Lennox Stylist: Andreas Kokkino and Katie Becker
For any busy woman, keeping your salon blowout fresh for days can seem like the ultimate hassle, especially when an impromptu hair wash can seem like a quick, easy fix. However, celebrity hairstylist Jennifer Yepez, who is responsible for the locks of A-listers like Salma Hayak, Gigi Hadid and Zendaya, is here to make the case that maintaining healthy locks actually requires less washing. For Yepez, having the right foundation is key to keeping your locks healthy and fresh in-between washes. From her blowout essentials to her best maintenance tips, here, Yepez breaks down the basics of hair cleansing.
How often should we wash our hair?
I suggest that you don't wash your hair for at least two to three days, and if you can go longer, then great. It keeps your hair healthy not to wash it so much. If you use dry shampoo a lot, I would suggest using a scalp exfoliator. Kérastase Chronologiste Scalp Exfoliator is the best. It's just like your skin—if you are putting on makeup all time, you always exfoliate your skin. Exfoliate first, then shampoo. I always suggest not putting shampoo directly on your ends, because it dries it out. Then the mask or conditioner, I put everywhere, though if you have thinner hair, I would say stop midway through. And if you want more volume, I always use a thickening spray no matter what hairstyle I'm doing. I love it because what if I want wavy hair tomorrow, how is my hair going to stay? So I always put on a thickening spray, a heat protectant, and add moisturizers or serum for something to help me blow-dry my hair.
What are people's biggest concerns when it comes to skipping washes?
That their hair is going to get oily. But, it's just like your skin; if you over dry your skin, you're going to get oilier skin. So it's the same thing with your scalp. Try to use a use a shampoo that's geared towards an oilier scalp, or try a dry shampoo.
What is the best way to use dry shampoo?
Always go section by section, definitely get your edges, and when I finish blowdrying my hair, I always put it in for volume. I love the Kérastase Powder Bluff because it smells amazing, it works, and it doesn't leave the white residue. If you do use a dry shampoo and it gives you the white residue, use a blowdryer and brush and just blow-dry it in. It's not bad to use it everyday. Even with Gigi Hadid, sometimes we don't have to wash her hair and she always says, "I think that's why we have good hair because we don't wash it all the time." As long as you use an exfoliant once a week when you wash your hair, you won't have all the buildup. Another trick is since I go to the gym a lot and I don't like to wash my hair, when my hair is soaking wet with sweat, I put dry shampoo right in my wet hair. I blow dry my hair with it in and it gives you so much volume, and kind of reactivates your products.
What are your best maintenance tips in between washes?
Use a great mask and shampoo; it's definitely worth the investment. Definitely use a heat protectant. If you have a nice serum or leave-in conditioner, like Kérastase's Ciment Thermique, it coats your hair and structures your hair and it's a heat protectant. Use an item that's catered to protecting your hair and smooths your hair, so that way you have faster blow dry, which means there is less heat on your hair. The T3 Cura IonAir has been my best friend now, because it saves you time and if you put less heat on your hair, which means healthier hair.