Kate Middleton's Makeup Artist On Why Facial Oil Should Be Your New Moisturizer
Makeup artist and Votary skincare co-founder shares how to properly wear facial oil.
---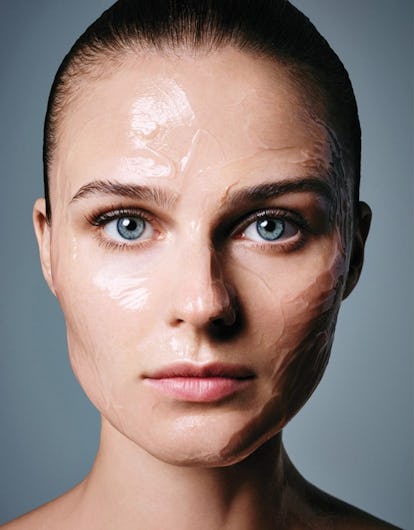 Photograph by Diego Uchitel, Styled by Jessica dos Remedios; Hair By Romina Manenti at Home Agency; Makeup by Lena Koro for Nars at TraceyMattingly.com; Model: Vasilisa Pavlova at Supreme Management; digital technician: Hugo Arturi; photography assistants: Basil Baucher, Scott Simpson; hair assistant: Katharine Cali
Combatting dry, irritated, and dehydrated winter skin? We've all been there. And when your favorite facial moisturizer fails to deliver that extra hydration, sneaking in an extra layer of a moisture proves to be a necessary step. While adding a facial oil into your skincare regiment may seem like an intimidating addition, the natural absorbing and enriching ingredients may be just what your skin needs. Take it from makeup artist and co-founder of Votary skincare, Arabella Preston, who famously helped guide Kate Middleton on achieving her own wedding makeup and is a strong advocate for natural facial oils. From the proper application techniques to the benefits of oil cleansing, here Preston shares why facial oils should be your new vanity go-to.
What are the biggest misconceptions of when it comes to facial oils? Why are people so afraid to use them?
The number one mistake I see people make with facial oils is using too much, so they are left feeling greasy. If you start out with too much oil in your hands, it won't absorb properly and you won't get the benefit of an effective massage. The great thing is that's a really easy one to fix! I always say three, maybe four drops is plenty for your face and neck. Spend a minute massaging it gently but firmly into your skin and all the oil will absorb beautifully.
It is suitable for all skin types?
Absolutely. There's a natural plant oil to suit every skin type. Just some examples: avocado and macadamia are gorgeous rich oils for dry skin, whereas in our Clarifying range, a range of oils for blemish-prone skin, we use rice bran oil which is incredibly light and fast absorbing.
What is the proper way to use facial oil?
Apply an oil first and massage it into your skin. Allow a minute for it to absorb then use a cream if you need the extra hydration and then apply your foundation. It's a total misconception that you can't use oils under make-up. In fact, if you ask a pro make-up artist how they prep skin, they say a facial oil nine times out of ten. Because a natural plant oil absorbs into the skin hydrating as it goes, you are left with a perfect base to apply make-up. Rich heavy creams sit on the surface of the skin and cause your make-up to slide and look uneven.
Is it a seasonal product or can it be year round?
Absolutely. We have a total of six very different face oils at Votary. My skin changes seasonally, and even daily; what I want to use in the morning is different to what my skin needs at night. So we have face oils to suit all scenarios and skin types.
What kind of ingredients do you look for while shopping for a facial oil?
Always natural. There's lots of debate about mineral oils, but at the end of the day they simply don't suit my skin; they clog my pores and cause breakouts. I'm also not crazy on their environmental impact. So apart from the fact that it has to be natural, I see potential in pretty much every plant oil I come across. It's always so exciting to come across something brand new too.
How do you know that your facial oil is working?
Calm, balanced skin that isn't too dry or too oily. Using a natural oil that doesn't strip the skin or clog pores can be so transformative.
Can facial oil help to combat problematic skin concerns?
For customers who have redness prone or sensitive skin we recommend using our Super Seed Facial Oil ($110, net-a-porter.com) is fragrance free, this is incredibly nourishing and soothing. For blemish-prone skin our Clarifying range is blended to be really light and easily absorbed.
What are the benefits of oil cleansing work?
I think the cleansing stage of skincare is possibly the most important. When things aren't going right it's certainly the cause of the majority of skin complaints I see. When you stop drying your skin out at the cleansing stage and use a proper face cloth to get your skin really clean, your skin will be soft and plumped, not dry and tight, and it can solve dry skin, oily skin, blemish-prone skin, and sensitive skin.
[#article: /articles/59ea586a7b212f10e9346b94]||||||