Why the Japanese 4-2-4 Cleansing Method Is the Secret to Clean, Healthy Skin at Home
In Fiore founder Julie Elliott breaks down the 4-2-4 cleansing method step by step.
---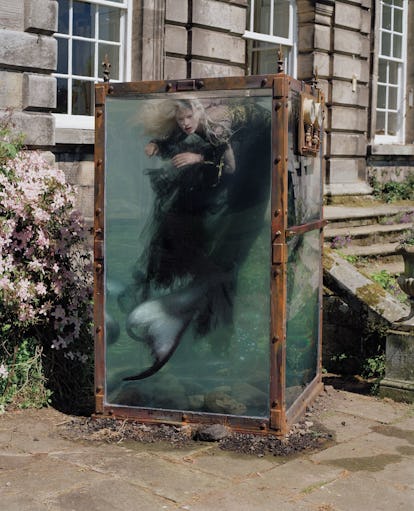 While there are endless techniques and practices we can follow when it comes to having a proper skincare routine, it's safe to say that achieving cleansed skin is a vital step. And while there is an ever-growing variety of cleansers from oil-based to gel to balm cleansers, In Fiore's founder Julie Elliott reveals that it's more about the process rather than the products. In a unique cleansing ritual originated from Japan, here, Elliot breaks down the 4-2-4 cleansing method step by step, the ideology and full body benefits behind the ritual and why achieving healthy skin takes time.
How did you get your start in skincare?
I got my start when I launched In Fiore in 1999, when I decided to create products taking my lifelong interest in working with botanicals and essential oils and bringing it to the market. When I started, my line was really geared more towards the rituals of self-care and bathing, and skincare came a little bit later as we were working with spas and getting really great feedback and working one on one with estheticians. They were like, "You should really bridge this concept into skincare," so this happened early on in 2002 a few years later, and that's when we created the foundation collection of our line and we took it to Japan.
What is the 4-2-4 cleansing method?
I really immersed myself into the Asian culture. During my travels I would talk to women about their rituals and the one common thread that I found is they all placed a huge emphasis on the cleansing regiment and the ritual of it. It was almost less about the product they were using, and more about the process. I thought that was really fascinating. I did some further research and came across the concept of the 4-2-4 method; it's a system where you start with an oil and you massage your skin for four minutes, then you layer your skin with a cream cleanser on top and you massage for two minutes to emulsify the oil, and then you rinse for four minutes—which for some people feels like eternity. I think that's probably the toughest part, but it's actually the most important. So I thought that was really interesting and I started testing it with our In Fiore products, and the results are pretty incredible. It is a discipline, but the key to integrating this is really using the 4-2-4 at night. You don't have to do it every night to benefit from the results; I find that 4 nights a week is really good. When you do the 4-2-4 at night and proceed with your layering sequence, you don't need to wash your face in the morning. So in that sense, it's very time efficient.
What are the phases of the 4-2-4 cleansing process?
The oil phase, the first phase of the 4-2-4, is really using the homeopathic concept of like attracts like. By massaging with the oil, you are improving circulation, you are bringing blood flow to the surface, but as you're massaging, you're also softening that top layer of the tissue and helping to remove debris and loosen any clogged pores. You really need an oil that's going to sit on top of the face, so when I formulated the Lustra oil ($125, infiore.net), it was with the intent of making a really luxurious and rich-feeling oil, but also giving it a texture that has really good slip so that it's easy to massage with, but also is going to sit on top of the skin.
So if you just choose a face oil, like a jojoba oil, after 4 minutes it's absorbed into your skin. So with our blend, we added castor-seed oil, and castor oil has been used for centuries as a holistic treatment to move stagnation. It is an ingredient that is very warming and helps to draw toxins out of the skin and really key to the oil working. There's also arnica in there, which helps break up congestion. I find that a of lot skin issues are derived from poor circulation. It's one of many, but I find with the 4-2-4 people who have acne, congested skin, and even cystic situations, this really helps to move them very quickly and with minimal scarring.
The cleansing you layer on top, I'm not a big fan of foam or gels, because I find them to be very drying to the skin. I love a creamy cleanser and when you apply it on top, it has this refreshing and invigorating feel and it will help to emulsify the oils without completely stripping the skin. So when you apply it to the skin it's white and creamy; by the time it's fully integrated it will be clear and you will feel that the oil feels thinner and will be much easier to remove.
The rinsing phase is a very, very important step. So you start with warm water for two minutes and then you finish with cold. The warm water is what will help to rinse the excess oil from the skin, but also is going to really bring the blood flow to the surface. It's going to open up those channels, the blood is going to be flowing, and warmth is in and of itself a form of healing. You really need warmth to create that movement so that we can initiate those detoxification processes. So after two minutes, you start with the cold water and it's going to tighten everything up and it's going to create this effect that I compare to the hot and cold shower technique. You are creating this opening and then constricting, that's flushing those toxins out of the skin.
So when you're done, you're face is going to be really flushed like you just got out of the sauna or you went on a long run, but your skin is going to be so plump and really hydrated. It's going to feel amazing, and I find that virtually any skin issue that you are dealing with really benefits from this method because you're supporting your skin's natural ability to heal itself. So if someone is dealing with really dry skin, this is going to correct dryness. If they have mature skin, this is going to promote and protect the collagen and elasticity in the skin. So virtually everyone can really benefit from the regiment. Once people try the 4-2-4, it's the results that really sell people on the discipline. I tell people that the 4-2-4 is really there to stress of importance of taking your time to wash your face.
What are the benefits of the 4-2-4 method?
The reason I love it at night is not only for going to bed with clean skin, the ritual of it really has an effect on your entire body because there are areas of our face that correspond with certain parts of our body. So for example, the forehead and the area around the temples is associated with our nervous system. Our cheeks, this area is associated with the lungs and breathing, it helps us to slow down and deepen the breath. The chin is more metabolic and hormonal, so it will relax the body. There are so many acupressure points and areas on the face that correspond with the body, so it's really this fantastic ritual for decompressing.
What is the difference between 4-2-4 cleansing and double cleansing?
It's a very specific ritual. I think the four-minute cleansing phase is very distinctive and key to that final process, the massaging and rinsing technique are very different than what you see. Double cleansing has become quite popular, so a lot of brands have been coming out with their own spin on it, but ours is unique because we give very specific guidelines on time. It's very Japanese—the Japanese love bathing and really leverage water to their advantage.
Why is cleaning the most important part of skincare?
From the Asian perspective, it is the foundation of really healthy skin. They also feel if your skin isn't probably cleansed, than the other products aren't going to work, they really associate cleansing with wellness. There's this belief system in "changing the water in your skin", and they also apply that same concept to the face. And what's interesting about the 4-2-4 is that when you're done, and you feel your face, it's feels like it's holding water. So I think for the Japanese, in their own way, that's how they describe that process of moving stagnation and toxins.
10 Bronzers To Keep Glowing Summer Skin For the Fall
See what's trending on W video: