Jessica Alba's Facialist On the Secrets to Glowing Red Carpet Skin
Hollywood facialist Shani Darden, who tends to the complexions of Jessica Alba and Kim Kardashian, reveals the secret to the ultimate red carpet glow.
---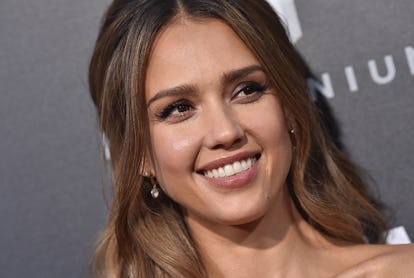 Axelle/Bauer-Griffin/Getty Images
As Hollywood's A-listers gear up for another award season, including the Emmys tonight, it's no secret that it takes a village—a.k.a the ultimate glam team—to get that luminous, Hollywood glow. And thanks to Shani Darden, facialist to the stars like Jessica Alba, Kim Kardashian, and Rosie Huntington-Whiteley, she knows just the trick. Whether you're preparing for the red carpet or a big night out, Darden makes the case that when it comes to achieving a glowing complexion, time and effort is most of the battle. From timely facials to skin-plumping serums and a balanced diet, here Darden reveals that maintaining healthy, radiant skin is something we can all achieve.
What are the biggest skin issues you deal with before a red carpet? How do you resolve them?
The biggest issue I deal with before a red carpet event is dull skin. I use a light chemical exfoliant to remove dead cells from the skin's surface to give clients an amazing glow.
What treatments do you recommend to clients a week before a big event?
I typically recommend a facial two weeks before a red carpet event. Clients come in the week of an event for a light chemical peel or sometimes day of, depending on their skin type. I always avoid extractions immediately before an event so as not to irritate the skin.
How do you prep the skin the day of a red carpet event for luminous, healthy skin?
The day of an event, I recommend using products packed with hyaluronic acid to help plump the skin and give skin an amazing glow. I use various ultrasound devices in facials to massage the skin.
Is it possible to over prep skin?
I recommend avoiding extractions leading up to a red carpet event. Don't overuse products with active ingredients—stick to your routine.
What are your go-to products? Do you use any facial tools?
I love products packed with hyaluronic acid for the day of an event. iS Clinical Hydra-Cool ($90, shanidarden.com) helps plump the skin, while Intraceuticals Rejuvenate Eye Masks ($49, shanidarden.com) are a must to get rid of any fine lines or under-eye bags before the red carpet. I use quite a few facial tools depending on what my client's skin needs that day.
Your favorite sunscreen that works best under makeup?
I love Control Corrective Oil-Free SPF ($33, controlcorrective.com). It feels almost like a moisturizer and goes great under makeup.
How do you layer retinol into your skincare routine?
It's important to gradually build up when you begin using retinol. Start with one night a week and add a night each week as your skin can tolerate. It's important to not overdo it. I would apply retinol onto clean, dry skin after I'm home for the evening and follow with a moisturizer.
Which food and drinks should we incorporate into our diet for healthy skin?
Water! It's amazing for digestion and helps flush toxins from the body—it's the easiest health tip I can give my clients. I always stock up on Fiji Water at home and for my clients at my studio. I even keep a bottle of Fiji with me all day and I encourage my clients to do the same. Avoid alcohol and salty foods that can cause bloating.
See the 2017 Emmys nominees: