Kristen Bell Advocates for Double Cleansing, Oregano Oil, and SPF
The actress reveals her hair, skincare, and makeup secrets.
---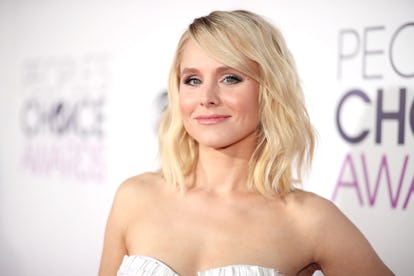 Christopher Polk/Getty Images
Throughout her career, 37-year-old actress Kristin Bell has always embraced the natural look on the red carpet. So it makes sense, then, that her beauty ethos is "less is more." Here, the Veronica Mars star and face of Neutrogena dishes on everything from her skincare essentials to the importance of wearing SPF and her love for coconut oil.
Your look in three words: Less is more.
Medicine cabinet snapshot: Oregano oil–I take whenever I feel like I'm coming down with a cold, Klorane Dry Shampoo when I don't have time to wash my hair, Frozen Band-Aids for my daughters, Fat and the Moon Deodorant Cream, Amber oil by Nemat International, iS Clinical, and Skyn Iceland Hydro Cool Firming Eye Gels to decrease puffiness on early mornings.
Good skin starts with: Double cleansing, which sounds more complicated than it is. It's just wiping off your makeup from your skin first and then using your cleanser so it can actually work to clean out your pores without any interference. I love the Neutrogena Naturals Purifying Makeup Remover Cleansing Towelettes, and then use my Clarisonic face brush to wash my face.
Best advice from your dermatologist: Get skin cancer screenings properly once a year and check yourself once a month.
Best advice from your facialist: Make sure to wash your face at night and exfoliate to remove all skin impurities. I have dry/combination skin, so she always dissuades me from using harsh products that will strip all the natural oils.
SPF of choice: Loving Neutrogena's Sheer Zinc Dry-Touch Sunscreen. It has all the benefits of a mineral sunscreen, but doesn't appear too white.
Makeup miracles: Skyn Iceland Hydro Cool Firming Eye Gels to decrease puffiness on early mornings under eye pads for early morning puffiness that I keep in the fridge, iS Clinical's active serum before any skincare to keep your skin from breaking out, and not so much a product, but the StackedsSkincare Micro-Roller is definitely a tool I can't live without.
Most underrated product: Coconut oil, I use it for everything.
Never leave the house without: Moisturizer, SPF, lip balm, rosy cheeks, bronzer.
A good hair day starts with: Oribe Swept Up Volume Powder Spray, Dyson Supersonic Hair Dryer, Ibiza hair brush.
Best advice from a colorist: Put cream on the ends while coloring blonde hair to save the fragile hair from over highlighting.
Nails must be: Any length, polished or not-always clean.
Beauty from the inside out: Veggies, veggies, veggies.
Exercise obsession: I love yoga for my mind and posture, and pilates for muscle tone.
Drink of choice: Kreation SOL green juice.
Product that you picked up from the pros: Olaplex from hairstylist Ange Grmolyes. The discovery of the century.
A woman should smell like: Nemat Amber oil.
Appointment you'd love to nab: I love any moment I get to have my makeup done by Simone A Siegl, my make-up artist and friend. When she is steering the ship, my mind is always at ease.
Spa-cation at: My local foot spa. Very affordable, no clothes off, and straight to the point–the rub.
In-tub must-read: The New Yorker, to stay informed and entertained.
Best advice from mom: Always wear SPF.
Best-kept beauty secret: Sleep and drink a lot of water.
Beauty myth you'd like to debunk: More makeup = better. I think, especially as I age, that less is more.
Related: Actress Kristen Bell's Guide to Traveling Green
Goldie Hawn's Marvelous Hair Highlights Through The Years