Actress Kristen Bell's Guide to Traveling Green
Veronica Mars is now solving eco-issues.
---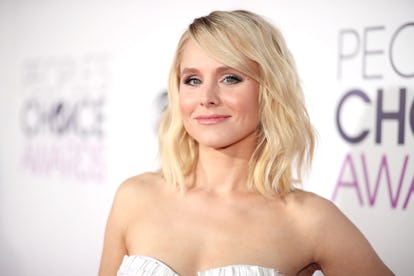 Christopher Polk/Getty Images
"I love living a green lifestyle, but I don't have any interest in living in a mud hut," said the actress Kristen Bell. She was in Los Angeles, where she lives with her family and has recently taken up going "green"—everything from snacking on local strawberries to feeding her leftover noodle cooking water to the plants. Not that the actress has any interest in getting too granola, though: "My husband"—the actor Dax Shepard—"and I work in the public eye, and we can't look like transients," Bell remarked of her constant laundry cycles, whose footprint she's amending by partnering with Tide purclean, a mostly plant-based detergent, on a "Clean Pledge" initiative to benefit the World Wildlife Fund's efforts toward global conservation. Still, the former Veronica Mars actually spends most of her time on the road for work. As Earth Day rolls around, she shares her guide to staying green while traveling, here.
Duh: Stay in nature.
"Four times a year, we go to the Glamis Sand Dunes—they're our family destination. We love to get in a motor home and just play board games and be in a cramped space where we're forced to have conversations with each other and not use our phones. It's sort of southeast of Los Angeles, about four hours away. It's just these gorgeous sand dunes that we can camp on and there's beautiful sunsets.
Come out of your shell.
"There's this turtle conservancy in Ojai, California that's run by Eric Goode, who created the Bowery Hotel. You can Airbnb these beautiful Spanish-style homes on the property, which is breathtaking. All the money goes to the turtle conservancy, and there are turtles of every size, everywhere. There are turtles that are 85 years and three-and-a-half feet by three-and-a-half feet walking by your porch, and there are incubators where they'll show you the new babies that have hatched. We spent the weekend there a couple of weeks ago, and it was just utter perfection."
When in California, buy Californian.
"The agriculture is so prolific in California, so when we're driving around, I'm always looking [around on the streets] for local honeys and jams. They make potato chips from dried root vegetables from local farms, and in any given city, they'll have those in whatever the eco version of a 7-11 is. Our favorite food on the planet is Harry's Berries, which I'm pretty sure you can only get in California. I've become so obsessed with the strawberries that I researched the farm—it's this family farm run by these Asian immigrants who came over in the '40s, who use these heirloom seeds that make these teeny-tiny, less than an inch big sugar bombs of strawberries. They taste more like Jolly Ranchers than any strawberry you could buy in the store."
Not every beach is created equal.
"You know, I've lived 10 miles from the beach for about 15 years, but I've probably been there a dozen times. I am just not a beach girl, but I will say this: I've been to Bora Bora, and the water there seems like it's lit from underneath. It seems as if a set designer built it, you'd actually have to tell him to tone it down because it's not very believable."
Unplugging is easier when there are literally no outlets.
"The Glamis Sand Dunes are probably the most remote place I've ever been, because people just take RVs out there, and you're on your own, running on your generator at night. The stars are particularly beautiful because there's no light pollution out there—it seems like there are millions, and it's intoxicating. That's when you truly feel offline—you literally are, because cell phones don't work out there, but you also feel it emotionally."
See W's most popular videos: