Kylie Jenner Rented Out All of Six Flags Magic Mountain for Travis Scott's 25th Birthday
The youngest Jenner never does anything by halves.
---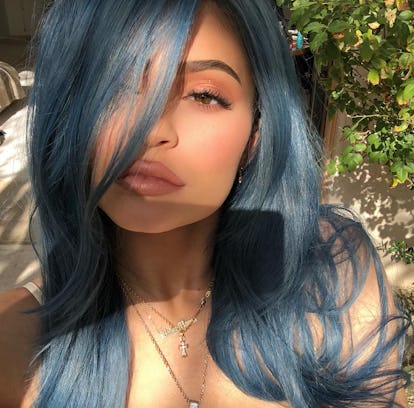 @kyliejenner
Kylie Jenner, beauty mogul, is not known for doing things by halves. Throughout her pregnancy with her now-three-month-old infant Stormi, she declined to share her progress with her followers—but then, she announced Stormi's birth earlier this year with an eleven-and-a-half-minute-long video, titled "To Our Daughter," that is the stuff media studies theses are made of. At Coachella, her first public appearance since the birth, she emerged with "cool mom" highlighter-pink hair. For her (approximately) one-year anniversary with boyfriend Travis Scott, she brought him to a Houston Rockets basketball game, roughly recreating their first public date a year prior.
So it's perfectly reasonable that, on the occasion of Travis Scott's 25th birthday (which is actually Monday, April 30), she should rent out Six Flags Magic Mountain in Los Angeles. Jenner revealed the celebration on her Instagram, where her Instagram stories show her, Scott, and a bunch of their closest friends (like Jordyn Woods) tearing through the theme park after dark. Scott, apparently, had never been before; there's no better way to take in your first Six Flags than by night, with the whole place to yourself.
To top it all off, Jenner proved she inherited her mom Kris's knack for picking out a cake (Kris, after all, was responsible for the saccharine spread at Chrissy Teigen's surprise baby shower): Scott's birthday cake was shaped like a roller coaster, complete with Scott, Jenner, and their daughter riding a cart down one of its tall crests. It was embellished with "AstroWorld," the name of the new theme park that will occupy the same site as the since-shuttered Six Flags in Houston—and, conveniently, also the title of Scott's anticipated new album. Birthday party, or market research?
Also in attendance, according to a tweet by one of the park's attendants, were Kim Kardashian and Kanye West, fresh off Teigen's party the night before, as well as Kourtney Kardashian and Kendall Jenner. "I'm not going on Superman," Kim can be heard saying in her Instagram stories. Fair enough.