Kylie Jenner Posts A Makeup-Free Video With Daughter Stormi Webster After Launching New Kylie Cosmetics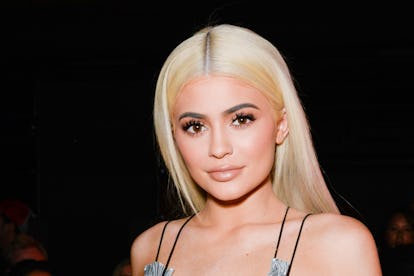 Presley Ann/Patrick McMullan/Getty Images
Luckily for anyone obsessed with 20-year-old mom and makeup mogul Kylie Jenner, she can't quit posting pictures and videos of nearly 3-month-old Stormi Webster, and her latest, posted Monday afternoon, does not disappoint. The clip, posted to both Instagram and Snapchatm has just about everything you could possibly ask for in a Kardashian video: Jenner sans makeup, and a baby smiling and laughing. Given the small amount of evidence we have over her first few months of life, Stormi seems to be a particularly giggly baby — Jenner has posted multiple videos of her first child with rapper and boyfriend Travis Scott smiling into the camera—of course, Jenner is no stranger to posing for the camera, as well, but she tends to go for a moody pout.
In this snippet, Jenner is seen wearing a white sweatshirt and sitting on a white chair with Stormi sleeping on her chest. Meanwhile, Stormi seems content in her white onesie printed with cherries. "Our hair both a mess but ?," Jenner captioned a photo in which her hair is pulled back into a messy bun and her famous freckles are visible. In another video, Jenner strokes a sleeping Stormi's hair while the baby, whose adorable cheeks are squished, leaving her mouth agape, starts to laugh before immediately dozing off once again. "My happy baby ?," Jenner wrote.
Other highlights of the taped hangout session include a closeup of Stormi's nails with the caption "She has the prettiest nails," and a panoramic video of the location, which seems to be Jenner's well-maintained backyard. One thing Stormi, Kylie, and her lawn will always have in common: a good manicure.
See the heartwarming videos and photos, below — proof that Kylie's transformation into a mommy blogger is going swimmingly.
Related: Make Way for Kylie Jenner and Stormi in Their New Fendi Stroller