Make Way for Kylie Jenner and Stormi in Their New Fendi Stroller
The new mommy blogger is doing her best to make sure you take her two-month-old Stormi Webster's style seriously.
---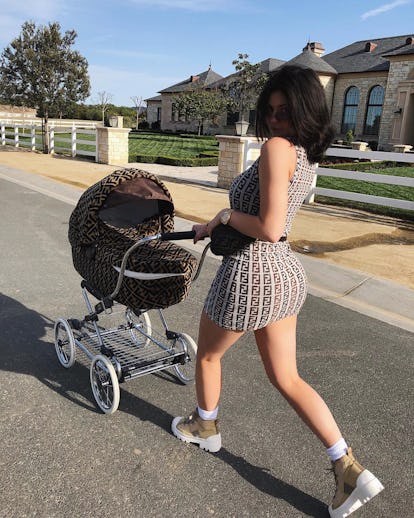 Courtesy of @kyliejenner
While Khloé Kardashian's pregnancy has unfortunately been a subject of fascination due to its fraught circumstances, her 20-year-old sister Kylie Jenner has been having much better luck since delivering her sort-of-secret baby girl, Stormi Webster, with her boyfriend Travis Scott.
Indeed, she's made a point of showing it: Ever since she gave birth in February, Jenner has done her best to moonlight as a mommy blogger, diligently documenting Stormi's upbringing across platforms—including even on Snapchat, whose stocks recently plummeted because of her casual criticism of the app.
That Snap, of course, only came after she'd made her days-old daughter an Instagram celebrity, paving the way for her to break a record on her app of choice by posting a photo of her teensy tiny fingers, which is now the most-liked Instagram to date. Now, a couple of months later, whether as a continued apology from when she at long last confirmed her pregnancy, in which she said sorry and that she "understand[s] you're used to me bringing you along on all my journeys," or simply because she can't help herself, Jenner has certainly made up for her lapse in posting ever since Stormi's birth.
Most recently, that proved to be true on Thursday night when, hours after Khloé gave birth that morning, Kylie posted another insight into her life as a mom: a photo of her in a skintight sleeveless dress, pushing a stroller, both of which were covered in the same all-over Fendi logos that her sister Kim Kardashian, for one, has also paired up in matching separates. Indeed, the double-F Zucca print has been so omnipresent that the only way to really make it new again is to do something none of the rest would dare (or need) to do: put it on a stroller.
Having already pointed to her daughter as inspiration for a Kylie Cosmetics collection, Jenner has seemed determined to make her daughter a style icon from the start—even if the attention often ends up on herself, like that time she posted a photo of herself and Stormi on the occasion of her turning one month old for holding her newborn with somewhat long and pointy nails. And, of course, there's no need to worry if her efforts fail: With Kanye as her uncle, Stormi is already set to be on-trend (at least when it comes to sunglasses) for life.
Jenner is set to make her first public post-baby appearance at Coachella, in part to promote her beauty lines. There's no word yet on whether Stormi will be accompanying her, though if she does, it's pretty much a guarantee she'll prove herself to already be a master at festival style.