Kanye West Sends Kim Kardashian Fashion Declarations Over E-Mail
Picture West keeping abreast of the latest trends, doing his Pinterest e-mail, and sending his wife gigabits full of pictures over e-mail.
---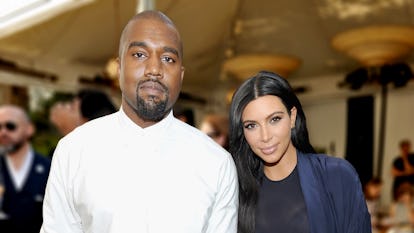 Donato Sardella/Getty Images
Have you been wondering why Kim Kardashian recently swapped out her oversized sunglasses to experiment with tinier specs of the type that might remind you of The Matrix? Well, it turns out the reason is Kanye West. Apparently, the Yeezy designer likes to send his wife e-mails containing his latest fashion observations in hopes that she adopt them.
"[Kanye] sent me a whole email like, 'You cannot wear big glasses anymore. It's all about tiny little glasses,'" Kardashian divulged last night during the return episode of Keeping Up With The Kardashians according to *People*. "He sent me, like, millions of '90s photos with tiny little glasses like this."
She divulged all of this while wearing a pair of the tiny sunglasses with a bodysuit and leather mini-skirt that were handpicked by West himself.
West does get points for being correct about this trend. Back in June, we alerted the world that "your sunglasses should barely cover your eyeballs this summer." That was at least the message we were getting from street style snaps of current fashion icons like Rihanna, Bella Hadid and Kardashian's sister Kendall Jenner. Brands like Roberi & Fraud and Balenciaga (which paired almost all their looks during their Fall 2017 show with Matrix-esque specs) had popularized them, and the discerning hypebaes of the world followed suit.
Even Kourtney Kardashian jumped on the trend. (Perhaps Kim forwarded her Kanye's treatise?)
As for Kim herself, well, she did experiment with her trend, but over the summer her go-to pair of sunnies was a not-too-big, not-too-small pair from Versace. Mostly we're more tickled with the idea of West keeping abreast of the latest trends, doing his Pinterest e-mail, and sending his wife gigabits full of pictures over e-mail. Though, news of West informing his wife's style is nothing new. Kardashian once divulged that early in their relationship West told her to throw out all of her clothes so he could get her a new wardrobe.
"When we first started dating, he went through my closet, he put everything he thought wasn't cool enough in a pile," Kardashian once said on Live! with Kelly & Michael. She cried a bit and protested, but West eventually presented her with a new room full of clothes. "It really helped me fall in love with fashion," she said. "I eventually did get rid of all that stuff, but at the time I couldn't see it."
Kardashian also serves as the unofficial face of West's Yeezy line. He recently premiered his Yeezy season six line through paparazzi photos of his wife.
In any event, it seems like West and Kardashian desperately need to make a date night to see Phantom Thread soon.
Related: Kim Kardashian Has Been Wearing Yeezy Season 6 Clothes and Sharing Them on Instagram