Kylie Jenner's Daughter Stormi Inspired Her Latest Kylie Cosmetics Collection
"I worked on this pretty much my entire pregnancy."
---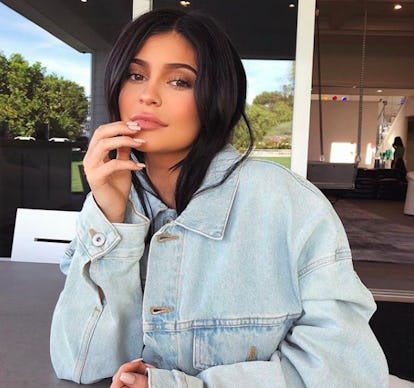 instagram.com/kyliejenner
Now that the dust has settled from the announcement of her first child with Travis Scott, Stormi, Kylie Jenner is easing back into her career. Today, she announced her next release for Kylie Cosmetics and it's inspired by her new life as a mom. "I worked on this pretty much my entire pregnancy," she said on Instagram, announcing a slew of new products named after her baby. "Right after we chose Stormi's name, her name really inspired me. I spent a lot of time on this collection and put a lot of detail into it."
That detail is manifested in lightning bolts that grace the packaging as well as some of the actual products, like the "Nightfall," "Cosmic," and "Nova" matte lipsticks. The lightning bolts also appear on the packaging for the "Eye of the Storm" and "Calm Before the Storm" palettes that are rife with pastel and metallic hues. Jenner also gave her own label a Stormi makeover, replacing the "I" in her name with a lightning bolt on the "Glitter Eyes" duos that are named "Twinkle Twinkle," "Superstar," "Violet Moon," and "Destiny."
Jenner even modeled the "Violet Moon" eyeshadow and "Nightfall" matte lip on Instagram, which she paired with yellow nails that match the Stormi collection packaging. She also revealed that the collection drops February 28 at 3 pm PT.
Stormi has accomplished quite a bit for not even being one month old. Aside from having her own Kylie Cosmetics collection — an honor some of her family members still haven't had (namely, aunt Kendall) — Stormi has also secured the most-liked photo in the history of Instagram. It featured an out-of-focus glimpse at her face and was centered around her tiny hand holding onto Jenner's thumb. "Stormi Webster ??," Jenner captioned the photo.
As for Kylie Cosmetics, Jenner's latest release confirms an earlier report that she would be pivoting her personal brand in the wake of becoming a mom. "As soon as the baby is born, she will make an announcement and introduce the baby to her fans. She will also address the fact that she went 'dark' on social media and in the public," a source correctly predicted last month. "Yes, she will release a photo, and yes, she will acknowledge the baby. She's excited to continue to be her authentic self, and that will soon mean being a mother and sharing that with her fans." She's already well on her way.