Kylie Jenner Gives A New Glimpse of Daughter Stormi on Snapchat, Even Though She's Not Happy With the App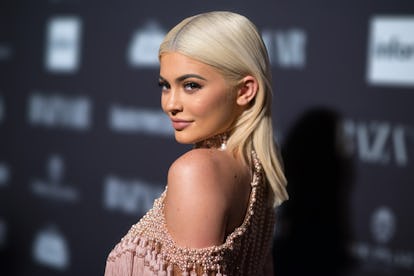 Michael Stewart/WireImage/Getty Images
Kylie Jenner has made peace with her on-again, off-again first love—Snapchat, of course—all in the name of sharing newborn daughter Stormi Webster's tiny toes with the world.
Just last week, many linked the social media platform's plummeting stock price to comments Jenner made about the photo-sharing app on Twitter. "Sooo does anyone else not open Snapchat anymore? Or is it just me…ugh this is so sad," she tweeted on Wednesday, before following it up a few minutes later with, "still love you tho [sic] snap…my first love." And on Sunday, she proved her love by using the app to give her followers their second quick glimpse of Stormi, posting a video of her holding her three-week-old daughter's foot and cooing, "Mommy's cute little toes!"
The Kylie Cosmetics founder previously shared a partial glimpse of Stormi, her first child with rapper Travis Scott, on social media just a few days after her birth. Earlier this month, shortly after simultaneously confirming her pregnancy and revealing that she had given birth on February 1, Jenner posted a photo of Stormi holding onto her mom's (perfectly manicured) thumb. Jenner announced her daughter's name in the caption, and within hours, the photo had racked up tens of millions of likes, making it the most-liked post in Instagram's history.
After keeping her entire pregnancy under wraps and all but disappearing from social media, Jenner is slowly returning to her usual posting habits. Last week, in between her maybe-catastrophic tweets about Snapchat, Jenner tweeted that she spends all day staring at Stormi, who "looks just like me when i [sic] was a baby." The following day, she debuted a brand-new Kylie Cosmetics collection inspired by and named after her daughter, explaining that she had worked on The Weather Collection for "pretty much my entire pregnancy." It's only a matter of time before Stormi becomes an even bigger social media star than her very famous mom.
Related: Did a Kylie Jenner Tweet Send Snapchat's Stock Plummeting to a $1.5 Billion Loss?
Kendall Jenner Gets Real: "I'm Weird, I Love My Tits Being Out"