Kylie Jenner Reveals Her Daughter's Name Is Stormi
The new mother also shared the first picture of her.
---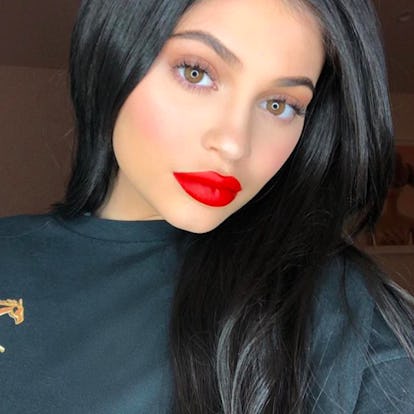 instagram.com/kyliejenner
After months of near-radio silence on social media and dodging reports that she was pregnant, Kylie Jenner is in sharing mode. This past Sunday the 20-year-old reality TV star turned beauty mogul and cool mom revealed that she had indeed given birth to her first child, a baby girl with her beau Travis Scott. A couple days later, Jenner has revealed her name and a closer look at her little bundle of love. Kylie chose — drumroll — Stormi, as she revealed alongside an angel emoji in an Instagram post. Jenner shared Stormi's name in the caption of a photo with her daughter's tiny hand around her thumb.
Jenner's last posts on Instagram were as plainspoken with the youngest of the Kardashian-Jenner family explaining why she chose to keep her pregnancy a secret. "I'm sorry for keeping you in the dark through all the assumptions. I understand you're used to me bringing you along on all my journeys," she wrote. "My pregnancy was one I chose not to do in front of the world. I knew for myself I needed to prepare for this role of a lifetime in the most positive, stress free, and healthy way I knew how. There was no gotcha moment, no big paid reveal I had planned. I knew my baby would feel every stress and every emotion so I chose to do it this way for my little life and our happiness."
Jenner also revealed that even though it's only been days since she gave birth, she's already missing her pregnant days. "Pregnancy, has been the most beautiful, empowering, and life changing experience I've had in my entire life and I'm actually going to miss it," she wrote. "I've never felt love and happiness like this I could burst!"
She's not the only one who misses her pregnant days either, as Khloé Kardashian, who is also expecting her first child, revealed how much she loved "bumping" around with Jenner. "Congratulations My Sweet Kylie! What a magical ride it's been! I'll miss you bumping along with me," she wrote on Instagram in the caption of a photo of the two showing off their pregnancies. "Never in a million years did I think we would do this together but it's been that much more special because of it. God is so great!! He had His plan all along! I love you little mama ? love big mama."
Related: New Mom Kylie Jenner Is Reportedly Ready to Return to a "More Normal Life"