New Mom Kylie Jenner Is Reportedly Ready to Return to a "More Normal Life"
She wants to step out of the shadows.
---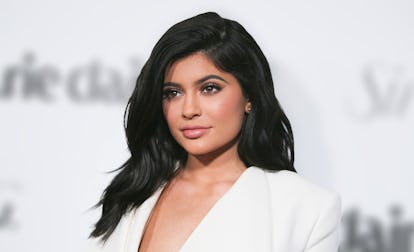 David Livingston/Getty Images
Much like the Calabasas version of Punxsutawney Phil, last weekend, Kylie Jenner emerged from her hidey-hole, looked around, and made a decision about the months to come. Unlike the world's most famous groundhog, however, the Lip Kit maven didn't see her shadow and, apparently, is ready for a springtime reawakening of her public presence. After nine long months of hiding from her fans and paparazzi alike, Jenner has reportedly made the decision to return to her rightful place in the spotlight, with her newborn daughter in tow.
"[Kylie] is relieved that her baby girl is here so she could share her 'secret.' She is looking forward to being out and about more," a source told People this week. "She wanted her pregnancy to be low-key, but she misses parts of her old life." The insider continued, "For now, she wants to rest and bond with her baby. But she is also excited about eventually getting back in shape and going on dates with Travis [Scott]. She says that she is ready to return to a more normal life." The source didn't elaborate, but it can safely be assumed that this "more normal life" will include more selfies, more outings in public places, and more impromptu Snapchat Q&As.
On Sunday, the 20-year-old simultaneously announced the birth of her daughter and explained her decision to retreat into the shadows for the duration of her pregnancy. "I'm sorry for keeping you in the dark through all the assumptions. I understand you're used to me bringing you along on all my journeys. my pregnancy was one I chose to do in front of the world. I knew for myself i needed to prepare for this role of a lifetime in the most positive, stress free, and healthy way i knew how. There was no gotcha moment, no big paid reveal i had planned. I knew my baby would feel every stress and every emotion so I chose to do it this way for my little life and our happiness," Jenner wrote in an Instagram post. "Pregnancy has been the most beautiful, empowering, and life changing experience I've had in my entire life and I'm actually going to miss it. I appreciate my friends and especially my family for helping me make this special moment as private as we could. my beautiful and healthy baby girl arrived February 1st and i just couldn't wait to share this blessing. I've never felt love and happiness like this i could burst! Thank you for understanding."
Related: Kylie Jenner Is Keeping Her Pregnancy a Secret Because She's Lived Her Life Publicly
A Look Back at Kylie Jenner's Many, Many Hair Transformations
Kendall Jenner and Kylie Jenner pose for a photo at the "Keeping Up With the Kardashians" viewing party at Chapter 8 Restaurant on October 16, 2007 in Agoura Hills, California. Photo courtesy of Getty Images.

Getty Images
Kylie Jenner attends the release party for the new album "Kiss & Tell" by Selena Gomez and The Scene at Siren Studios on September 30, 2009 in Hollywood, California. Photo courtesy of Getty Images.

Getty Images
Kylie Jenner attends the premiere of Screen Gems' "Easy A" at Grauman's Chinese Theatre on September 13, 2010 in Hollywood, California. Photo courtesy of Getty Images.

Getty Images
Kylie Jenner arrives at the Los Angeles premiere of "The Twilight Saga: Breaking Dawn Part 1" held at Nokia Theatre L.A. Live on November 14, 2011 in Los Angeles, California. Photo courtesy of Getty Images.

Getty Images
Kylie Jenner hosts a meet and greet with fans at Kardashian Khaos store inside Mirage Resort and Casino on December 15, 2012 in Las Vegas, Nevada. Photo courtesy of Getty Images.

Getty Images
Kylie Jenner arrives at the 2013 American Music Awards at Nokia Theatre L.A. Live on November 24, 2013 in Los Angeles, California. Photo courtesy of Getty Images.

Getty Images
Kylie Jenner arrives at the premiere of "The Hunger Games: Catching Fire" held at the Nokia Theatre L.A. Live. Photo courtesy of Getty Images.

Getty Images
Kylie Jenner attends the 2014 Billboard Music Awards at the MGM Grand Garden Arena on May 18, 2014 in Las Vegas, Nevada. Photo courtesy of Getty Images.

Getty Images
Kylie Jenner arrives at the 2014 American Music Awards at Nokia Theatre L.A. Live on November 23, 2014 in Los Angeles, California. Photo courtesy of Getty Images.

Getty Images
Kylie Jenner attends Kylie Jenner Announced As Brand Ambassador For Nip + Fab at W Hollywood on December 15, 2015 in Hollywood, California. Photo courtesy of Getty Images.

Getty Images
Kylie Jenner arrives at the 2015 American Music Awards at Microsoft Theater on November 22, 2015 in Los Angeles, California. Photo courtesy of Getty Images.

Getty Images
Kylie Jenner attends the grand opening of Sugar Factory American Brasserie on September 16, 2015 in New York City. Photo courtesy of Getty Images.

Getty Images
Kylie Jenner attends WSJ Magazine and Forevermark Host a Special Los Angeles Screening of "Paper Towns" at The London West Hollywood on July 18, 2015 in West Hollywood, California. Photo courtesy of Getty Images.

Getty Images
Kylie Jenner attends Prabal Gurung Spring 2016 during New York Fashion Week: The Shows at The Arc, Skylight at Moynihan Station on September 13, 2015 in New York City. Photo courtesy of Getty Images.

Getty Images
Kylie Jenner attends a photocall in her role as ambassador for Nip+Fab at Westfield London on March 14, 2015 in London, England. Photo courtesy of Getty Images.

Getty Images
Kylie Jenner attends the 2015 MTV Video Music Awards at Microsoft Theater on August 30, 2015 in Los Angeles, California. Photo courtesy of Getty Images.

Getty Images
Kylie Jenner attends SinfulColors and Kylie Jenner Announce charitybuzz.com Auction for Anti Bullying on July 14, 2016 in Los Angeles, California. Photo courtesy of Getty Images.

Getty Images
Kylie Jenner attends the Vera Wang Collection Fall 2016 fashion show during New York Fashion Week: The Shows at The Arc, Skylight at Moynihan Station on February 16, 2016 in New York City. Photo courtesy of Getty Images.

Getty Images
Kylie Jenner attends Harper's BAZAAR Celebrates "ICONS By Carine Roitfeld" at The Plaza Hotel on September 9, 2016 in New York City. Photo courtesy of Getty Images.

Getty Images
Kylie Jenner attends REVOLVE Desert House on April 17, 2016 in Thermal, California. Photo courtesy of Getty Images.

Getty Images
Kylie Jenner arrives for the NBCUniversal's 74th Annual Golden Globes After Party at The Beverly Hilton Hotel on January 8, 2017 in Beverly Hills, California. Photo courtesy of Getty Images.

Getty Images
Kylie Jenner attends the Alexander Wang February 2017 fashion show during New York Fashion Week on February 11, 2017 in New York City. Photo courtesy of Getty Images.

Getty Images
Kylie Jenner arrives at Marie Claire's Image Maker Awards 2017 at Catch LA on January 10, 2017 in West Hollywood, California. Photo courtesy of Getty Images.

Getty Images
Kylie Jenner attends the PrettyLittleThing x Paper Magazine on April 14, 2017 in Palm Springs, California. Photo courtesy of Getty Images.

Getty Images
Kylie Jenner attends the "Rei Kawakubo/Comme des Garcons: Art Of The In-Between" Costume Institute Gala at Metropolitan Museum of Art on May 1, 2017 in New York City. Photo courtesy of Getty Images.

Getty Images
Kylie Jenner on August 19, 2018 in New York City. Photo courtesy of Getty Images.

Getty Images
Kylie Jenner attends the Heavenly Bodies: Fashion & The Catholic Imagination Costume Institute Gala at The Metropolitan Museum of Art on May 7, 2018 in New York City. Photo courtesy of Getty Images.

Getty Images
Kylie Jenner is seen on May 3, 2019 in New York City. Photo courtesy of Getty Images.

Getty Images
Kylie Jenner arrives for the 61st Annual Grammy Awards on February 10, 2019, in Los Angeles. Photo courtesy of Getty Images.

Getty Images
Kylie Jenner attends the 2019 Met Gala celebrating "Camp: Notes on Fashion" at The Metropolitan Museum of Art on May 6, 2019 in New York City. Photo courtesy of Getty Images.

Getty Images