Did a Kylie Jenner Tweet Send Snapchat's Stock Plummeting to a $1.5 Billion Loss?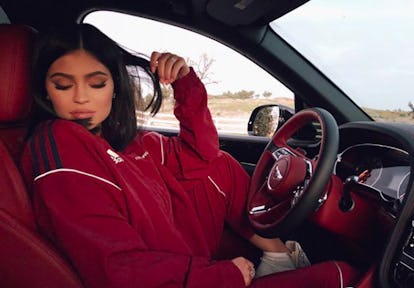 instagram.com/kyliejenner
Just how influential is Kylie Jenner? Her latest tweet offers a new perspective. After the social media-savvy reality TV star called out Snapchat's latest redesign, the company's value plummeted by $1.5 billion as Reuters notes. While it's impossible to know for sure whether one tweet could directly cause that magnitude of loss, the correlation is undeniable. SnapChat, afterall, has previously confirmed that Jenner is the most popular user on their platform.
Over the course of the past 24 hours, the value of Snapchat — which unfurled its divisive update nearly two weeks ago — has dropped by six percent, reports The Verge. It wasn't until Jenner's tweet, however, at 4:50 pm ET yesterday that Snapchat's stock began to spiral. In fact, before Jenner tweeted, "sooo does anyone else not open Snapchat anymore? Or is it just me… ugh this is so sad," Snaphat's stock was actually on the upswing in the wake of its nosedive on February 20, sparked by the negative feedback to its fragmented redesign which now separates celebrities' stories from the rest of users' feeds, and confusingly merged users' feeds with their messages.
Jenner followed up her critique with a compliment, writing, "still love you tho snap … my first love" to her 24.5 million Twitter followers. But the reach of her initial tweet was considerably greater. The first drew over 251,000 likes and nearly 45,000 retweets, while her followup garnered nearly 52,000 likes and 3,500 retweets.
This isn't the first time the beauty mogul has called out Snaphat's redesign. Back when it was first released on April 9, she tweeted, "Mm just saw the new Snapchat.. I don't know how i feel about it! What do you guys think?"
If anyone has the power to convince Snapchat to resort back to its original design it's Kylie Jenner. The celebrity is not only one of the social media app's earliest celebrity fans, she was also the most followed celebrity on it, at least as of last July, according to Ad Week.
As for Jenner's social media habits these days, she's become much more selective about what she's sharing ever since becoming pregnant with her first child, Stormi. Instead of taking to Snapchat, Jenner shared the announcement of both on Instagram, apologizing to fans for her recent absence, writing, "I'm sorry for keeping you in the dark through all the assumptions. I understand you're used to me bringing you along on all my journeys. My pregnancy was one I chose not to do in front of the world." She hasn't turned her back on Snapchat completely, though, as she chose to share the first picture of her and Stormi's dad Travis Scott on the social media app.
Related: Did a Kylie Jenner Tweet Send Snapchat's Stock Plummeting to a $1.5 Billion Loss?
28 Times Celebrities Dressed Up as Other Celebrities on Halloween
Jessica Biel as Justin Timberlake (and Justin Timberlake as a microphone), Halloween 2019.

Courtesy of @jessicabiel
Stormi Webster as Kylie Jenner, Halloween 2019.
Tracee Ellis Ross as DJ Quik, Halloween 2019.

Courtesy of @traceeellisross
Nina Dobrev as Billie Eilish, Halloween 2019.

Courtesy of @nina
Anastasia Karanikolaou and Kylie Jenner as Christina Aguilera and Britney Spears, Halloween 2019.

Courtesy of @kyliesnapchat
Avan Jogia and Cleopatra Coleman as Billy Bob Thornton and Angelina Jolie, Halloween 2019.

Getty Images
Rita Ora as rapper Post Malone, Halloween 2018.

@ritaora
Kylie Jenner as Christina Aguilera, Halloween 2016.

@kyliejenner
Beyoncé and Blue Ivy Carter as Janet Jackson and Michael Jackson, Halloween 2014.

@beyonce
Katy Perry as Freddie Mercury, Halloween 2015.

@aceoriolet
P. Diddy as Prince, Halloween 2012.

@diddy
Kim Kardashian and Joyce Bonelli as Anna Wintour and Grace Coddington with their children North West and Zeplin Black as André Leon Talley and Karl Lagerfeld, Halloween 2014.

@kimkardashian
Dua Lipa and Isaac Carew as Bianca and Mick Jagger, Halloween 2018.

(@dualipa)[https://www.instagram.com/p/Bpm0DnTBjwP/]
Winnie Harlow as RuPaul, Halloween 2018.

Getty Images
Paris Hilton as Miley Cyrus, Halloween 2013.

@parishilton
Harry Styles as Miley Cyrus, Halloween 2013.

@louteasdale
Chrissy Teigen and John Legend as Queen Elizabeth and Prince Charles, Halloween 2018.

(@johnlegend)[https://www.instagram.com/p/BpoGoyVF5zh/]
Harry Styles as Elton John, Halloween 2018.

Getty Images
Miley Cyrus as Lil Kim, Halloween 2013.

@mileycyrus
Kate Moss as Cara Delevingne, Halloween 2014.

@caradelevingne
Fergie and Josh Duhamel as Choupette and Karl Lagerfeld, Halloween 2015.

@fergie
Kim Kardashian in 2015 as Kim Kardashian in 2013.

@kimkardashian
Shanina Shaik as Rihanna, Halloween 2015.

@shaninamshaik
Miranda Kerr as Marilyn Monroe, Halloween 2015.

@mirandakerr
Neil Patrick Harris as Groucho Marx, Halloween 2016.

@nph
Victoria Justice as Amy Winehouse, Halloween 2015.

@victoriajustice
Aziz Ansari as The Weeknd, Halloween 2015.

@azizansari
Martha Stewart as Marilyn Monroe, Halloween 2016.

@marthastewart48