Kylie Jenner and Travis Scott Finally Publicly Reunite in a Cryptic Coparent Selfie
Complete with face masks and upside-down gibberish, their first-ever family portrait suggests all the mystery isn't over just yet.
---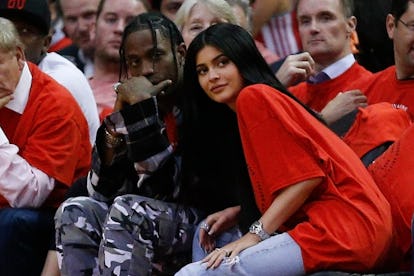 Bob Levey/Getty Images
Even though it's been two weeks since they've officially transitioned from a mere couple to coparents, Kylie Jenner and Travis Scott haven't been spotted together in months—not even just IRL, but also on social media, which is of course the Kardashian family's environment of choice.
Since Stormi's birth on February 1, Jenner has slowly begun to return to posting, Instagramming two selfies over the last few days. Perhaps because their barely two-week old infant has already broken a social media record, though, on Thursday night, she and Scott decided to make like their child and step things up, officially reuniting in their first photo together since Stormi's birth on Scott's Snapchat.
Ah, if only things were so simple. Instead of including Stormy in their first family portrait—especially since one of the few reports that emerged about Jenner post-baby is that she'd return to social media as a mommy blogger—the couple instead opted for a whole bunch of gibberish—the upside-down text "bdjxjkdn" obscures their faces in unmissable hot pink glowing letters. Since she took care to note that she "understand[s] you're used to bringing me along on all my journeys" in her apology for hiding her pregnancy, perhaps the text is just confirmation of how confusing this whole rumor-filled baby journey has been for all of us?
Claire Foy Was Very, Very Pregnant When She Auditioned for The Crown:
On the other hand, it doesn't seem like too long before we'll be seeing the newfound family together, if reports that Scott has cut down on work to help out with parenting are true. As of yet, they do not officially live together and reportedly have no plans to get married. But if some of the many, many rumors are to be believed, then at least Kanye West won't be needing to hold any more "serious man-to-man" talks with Scott, who's been dating Kylie since April of last year.
Indeed, there's another indication in the pair's cryptic selfie that Scott might be more a responsible parent than he's appeared to have been lately: His and Jenner's faces are also obscured by medical face masks. Of course, they could have just been messing around or taking a sartorial hint from the street style stars who proved you can't spell "influencer" without "flu" at New York Fashion Week. Whether purposely or inadvertently, though, their photo also doubles as a PSA of just how deadly the viral infection is this season, particularly when it comes to children. For the sake of their baby, then, here's yet another naggingly parental reminder to get your flu shots, kids!
Related: Travis Scott Has Reportedly "Cut Down on Work" to Spend His Nights With Daughter Stormi
A Celebration of Kylie Jenner's 20 Years of Not Letting the Critics Get Her Down