Kylie Jenner, Official Mommy Blogger, Shares Videos of Baby Stormi
And she's already a pro at Snapchat.
---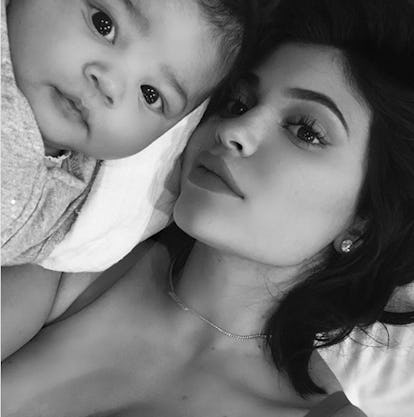 instagram.com/kyliejenner
Motherhood looks good on Kylie Jenner. Ever since she announced the birth of her first child, Stormi Webster, Jenner has been giving a mommy blogger in the making. The latest personal moment she's shared with the world is videos of her daughter with rapper Travis Scott laughing.
At just two months old, Stormi is already a pro at Snapchat. She's mastered using the face filter and providing an appropriate soundtrack for the voice filters. In one of the videos, Stormi laughs after Jenner says, "We went outside. What else did we do?" In another, Webster's wide eyes focus on her mom as she says, "Hi, happy girl. I love you. I love you!"
This isn't Stormi's first appearance on Snapchat, although it is the first where she's shown her face. Previously, Jenner, and by extension Stormi, offered up some goodwill to the social media app with a video of Jenner clutching Stormi's foot. Jenner posted the clip to Snapchat shortly after she called out the app's redesign, which sparked a $1.5 billion loss.
Stormi no doubt has the Kardashian-Jenner's signature smize, among other traits. Jenner pointed out how much her daughter resembles her in February, tweeting, "still staring at her all day. she looks just like me when i was a baby ?."
While Jenner hasn't shared many photos of Stormi so far, she's made the ones she has posted count. Last week, Jenner gave her older sister Kim Kardashian's level of extra a challenge when she took Stormi out for a walk in a logo-emblazoned Fendi outfit. Stormi was even bundled in a Fendi stroller. "stormi strolls ?," the caption read with a fitting money-eyed emoji.
Jenner's also posted more earnestly about motherhood, though, such as the photo she shared of her grandmother "MJ" holding Stormi. "I mean.. does it get any better than this?," she wondered.
Jenner's fun with Stormi started when she was pregnant, an experience she later opened up about when revealing she had given birth. "Pregnancy, has been the most beautiful, empowering, and life changing experience I've had in my entire life and I'm actually going to miss it," she wrote. "I've never felt love and happiness like this I could burst!"