Kylie Jenner Reportedly Deleted Photos of Stormi After Receiving Kidnapping Threats
The new mom is "terrified," sources say.
---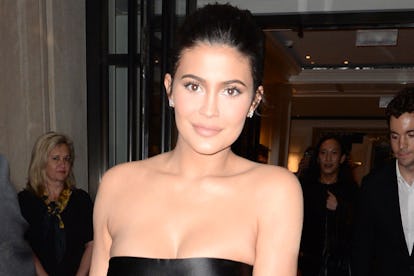 Andrew Toth/Getty Images
When Kylie Jenner deleted most of her pictures of daughter Stormi Webster from Instagram earlier this week, it seemed she had done so simply to protect the 4-month-old's privacy. After all, Jenner herself has been known to retreat from the spotlight from time to time—most notably, when she was pregnant with Stormi. But on Monday, an unnamed source close to Jenner told The Sun that the Keeping Up With the Kardashians star erased all photos of her daughter's face in the wake of disturbing criticisms and, even worse, threats to Stormi's safety.
"There have been an increasing number of trolls on social media calling Stormi ugly, and throwing out really horrible insults. It's been really upsetting for Kylie, because also some of the comments are direct threats to kidnap her," the source said. "Some people have commented saying it's all Kylie's fault because she has exposed her by putting her on social media. The haters have always been there, but just getting way, way worse these last few weeks—and calling out Kylie for being a bad mom." The source reportedly added, "Kylie is terrified—she's stepping up security. She hardly takes Stormi out in public but is now making sure that she's got protection at all times."
On Sunday night, Jenner posted a selfie on Instagram in which only a sliver of Stormi's head could be seen in the frame. In the comments, when one person wrote, "she cUT HER BABY OUT," the 20-year-old responded, "Yeah I cut my baby out. I'm not sharing photos of my girl right now," prompting fans to realize that she had deleted all photos on her Instagram feed that showed Stormi's face.
As shocked as fans of Stormi's adorably chubby cheeks and incredibly chic accessories may have been, Jenner has actually been dreaming for years now of retreating, phone-less, to a private Kylie Kompound with her family. "I would love to have a family and build a home with a farm in Malibu Canyon and just have my kids and throw away my phone, and just really, like, live my life and not do this anymore," she told Elle U.K. back in 2015. "Once I have a kid, I'm not going to be on Instagram. You know, I'll probably delete my Instagram and just…I don't know, live life."
Related: Kylie Jenner Brought Daughter Stormi Webster to a Birthday Party in a Gucci Baby Carrier
A Guide to the Many, Many New Celebrity Babies of 2018 (So Far)