Chiara Ferragni Welcomes First Child, Leone, With Fedez
The force behind The Blonde Salad welcomes a baby boy.
---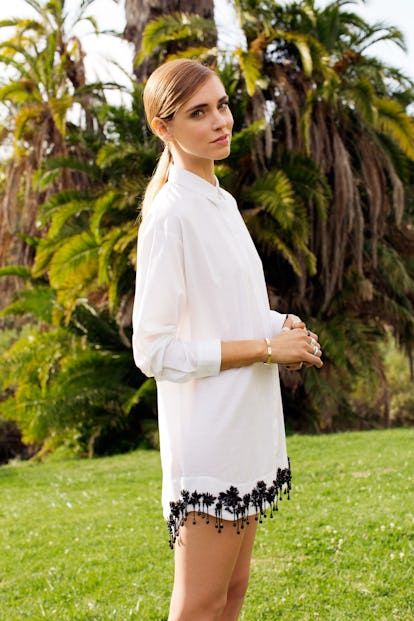 It's never been cooler to be a mommy blogger, thanks to new moms like Kylie Jenner and Kirsten Dunst. Now you can add Chiara Ferragni to that list. The Instagram star and mind behind The Blonde Salad has just given birth to her first child, a baby boy, with her Italian rapper fiancé, Fedez.
Leone, or "Leo" as Ferragni has nicknamed him, entered into this world yesterday, as Ferragni shared on Instagram. "March 19th 2018: our Leoncino was born," she wrote in the caption of Leo's Instagram debut. He was born at Cedars-Sinai Hospital in Los Angeles, where Ferragni has been living in preparation for her due date.
Unlike many others with an Instagram following that exceeds 12 million, Ferragni chose not to keep her baby son's name a secret until birth. She has been using it in hashtags over the past couple of months and explained its significance in a comment to a follower. "At the end of August 2016, after a few months of being single and 'dating' guys that were not the right thing for me, I tattooed two lions on the back of my right arm," she wrote, as WWD points out, "which meant true love to me." "I found my true love and Leo is in celebration of this love," she said.
Ferragni had also been sharing her pregnancy journey on Instagram, even during some of the more uncomfortable moments. Last month she announced she would be putting her career on hold while she rested under doctor's orders. "These past two days have been a blur," she wrote late February. "On Wednesday morning we had our routine ultrasound and our gynecologist found out Leo's tummy is not growing as much as It should, maybe because of the placenta getting old and not working correctly. I was put on bedrest, I really have to take it easy (had to cancel all my remaining jobs here) and I have now to take visits twice a week to make sure Leoncino is doing ok. We had the first one today and the results are so much better, he's resting and growing strong ?? Thank you for being there for me, and I apologize in advance If my feed is not gonna be as exciting as usual ? I'd love to hear your birth stories if you wanna share #LeoncinoMio." Expect to see much more of Leo on Ferragni's Instagram going forward, meaning the mommy blogger trend is nigh.
Related: Chiara Ferragni: It Girl, It Trend