Chiara Ferragni Is Pregnant: The Blonde Salad Announced She's Expecting Her First Child with Fiancé Fedez
"Life is beautiful," she wrote.
---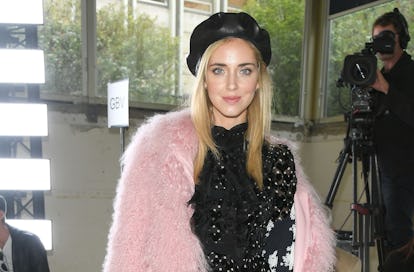 Photo by Dominique Charriau/WireImage via Getty
Chiara Ferragni–It girl, vlogger, and fashion influencer with nearly 11 million followers on Instagram–will soon be able add another job to her title: mother.
She and her fiancé Fedez, an Italian rapper and singer, posed for pictures to mark the announcement wearing, respectively, a baseball cap emblazoned with "Daddy" and a tiara adorned with gems that said "Mother." Ferragni posted the pic to her Instagram with the caption "Hey guys.. We're gonna be parents soon ?? I'm 5 months pregnant now and we can't wait to meet baby raviolo ? Life is beautiful," and in just under 24 hours it has accumulated nearly a million likes. we have to imagine that "raviolo" is an affectionate nickname.
Ferragni also posted to her Instagram a picture of herself and Fedez being affectionate at a Manhattan restaurant with the caption "Everything" and a short video of her fiancé talking to their unborn child in Italian, captioned "Thank you everyone for the wishes for this new chapter.. This year has been the most magical I've ever experienced ✨ @fedez #5months." So, that means we should mark our calendars for around…Valentine's Day, right?
This child is pretty much destined for success. Ferragni's a sought-after fashion influencer who started building her brand with fashion blog/lifestyle site The Blonde Salad, and Fedez, born Federico Leonardo Lucia, is a multiplatinum artist who also judges the Italian X Factor, per Fashionista. So the question is, will this kid be born with an Instagram account, an eponymous line of chic onesies, an endorsement deal and modeling contract, or all of the above?
Related: Inside W's It Girl Luncheon with Nicky Hilton, Chiara Ferragni, and Amelia Gray Hamlin
Photos: Chiara Ferragni: It Girl, It Trend
Atelier Swarovski by Juan Carlos Obando cuff. Photograph by Tim Hout.
Fashion Inspiration "I really like Alexa Chung's style." Photograph courtesy of Getty Images.
Favorite Hangout "Deus ex Machina, a restaurant in Milan." Photograph courtesy of Deus Ex Machina.
Giorgio Armani bag, $24,854, Giorgio Armani, New York 212.988.9191. Photograph by Tim Hout.
Proenza Schouler shoes, $895, Proenza Schouler, New York, 212.420.7300. Photograph by Tim Hout.
Must Read "L'Inganno Della Seduzione, a novel by my mother, Marina di Guardo."
Paule Ka crop top, $285, and shirt, $350, saks.com. Photograph by Tim Hout.