Chiara Ferragni: It Girl, It Trend
The international fashion blogger behind the Blonde Salad shares her white collar style.
---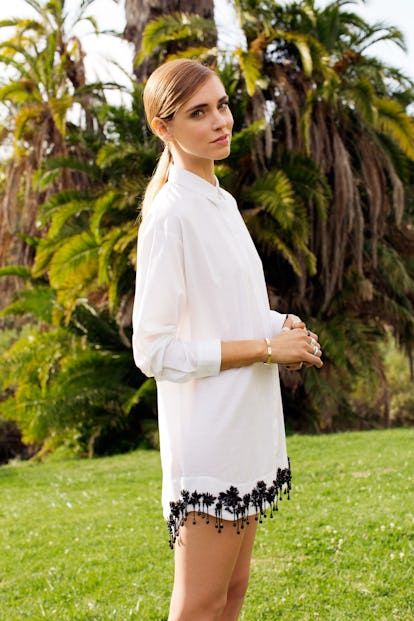 Chiara Ferragni's first big luxury purchase was a Louis Vuitton Speedy bag, bought when she was 18 and working as a showroom model. Now the fashion blogger, social media sensation, and international law student, 26, works with the French brand, starring in a promotional video and appearing in LV photo shoots. It's all thanks to her blog, the Blonde Salad, which she started in 2009 to share photos of her chic outfits and cool trips. (The name comes from Ferragni's then golden mane and the mix of content she featured.)
"I never liked the idea of taking a photo just for yourself—I think everything is better when shared," explains the native of Cormano, Italy, who favors leggy looks like skinny jeans with a leather jacket and ankle boots, or flirty minidresses. "In the beginning, my boyfriend at the time would say, 'This will lead you nowhere. You are wasting so much time on nothing.' But I always understood the power of the blog, even if I had no clue what it would become."
What the Blonde Salad has become is a site with 700,000 followers—through which Ferragni has been cast in a video for Miss Dior perfume, designed a capsule collection of Superga sneakers, and launched a line of sparkly slippers, which are sold in about 200 stores worldwide. In December she published a style manual in Italy, and last month she debuted a small collection of shoes for Steve Madden.
And she continues to up her digital game: The Blonde Salad got a design overhaul in January, and Ferragni has found an even wider audience via Instagram, where she has more than 1.5 million followers. She captions her wardrobe changes, travel snaps, and playful selfies with hashtags like #theblondesaladneverstops.
"What I now post on Instagram, I used to post on Facebook and Twitter, and no one got it," Ferragni says. "They'd ask: 'Why do you post photos of your new bag? Is it just to make us jealous?' Now people are starting to understand."
Photos: Chiara Ferragni: It Girl, It Trend
Atelier Swarovski by Juan Carlos Obando cuff. Photograph by Tim Hout.
Fashion Inspiration "I really like Alexa Chung's style." Photograph courtesy of Getty Images.
Favorite Hangout "Deus ex Machina, a restaurant in Milan." Photograph courtesy of Deus Ex Machina.
Giorgio Armani bag, $24,854, Giorgio Armani, New York 212.988.9191. Photograph by Tim Hout.
Proenza Schouler shoes, $895, Proenza Schouler, New York, 212.420.7300. Photograph by Tim Hout.
Must Read "L'Inganno Della Seduzione, a novel by my mother, Marina di Guardo."
Paule Ka crop top, $285, and shirt, $350, saks.com. Photograph by Tim Hout.