Why Emily Blunt Hopes There Isn't a Devil Wears Prada Sequel
She used to be open to it but now, not so much.
---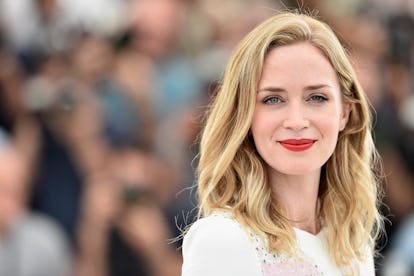 Pascal Le Segretain/WireImage
If there's one film project from the aughts which has been noticeably absent from talks about reboots, it's The Devil Wears Prada. A reboot is nigh, though, as Emily Blunt's character, also named Emily, is the subject of a forthcoming novel from author Lauren Weisberger called When Life Gives You Lululemons. Blunt, however, isn't jumping at the opportunity to play the iconic fashion assistant to Meryl Streep's Miranda Priestly once again, though.
"If everyone did it, I would be up for it," she told People, before adding. "I almost hope it doesn't [happen] because I think sometimes when you sequel everything [it] kind of dilutes how special the original is."
Blunt has nothing but fondness for her costars, though, as she reminisced about filming the 2006 film, saying, "We all just wept with laughter. I loved working with sweet Annie Hathaway, and it was my first experience working Meryl [Streep] and Stanley Tucci, who is now my brother-in-law."
Blunt has previously said she'd "love" to do the sequel, in an interview with Seth Meyers earlier this month. In the same interview, Blunt talked about one thing she has in common with her Devil Wears Prada alter ego: "resting b-tch face." "I wasn't aware that was a thing," she said.
Blunt has had a love-hate relationship with her character Emily, as she said back in 2009 of her performance in The Devil Wears Prada: "It makes me want to throw up in my mouth.The thought that I could possibly do that in a Meryl Streep film is insane!," she told Elle. "I find myself snorting derisively about that."
Blunt, who auditioned for the film in her jeans and flip-flops in a car ride to the airport, per the Express, also downplayed the success of the film after its initial release. Back in 2006, she told MTV, "I knew I had some good one-liners, but I think all of us underestimated the impact this film and our performances would have. Honestly, I didn't realize how big a deal the performance would be at the time. I was having a huge amount of fun with it, overacting my little butt off."