Emily From Devil Wears Prada Is Getting Her Own Novel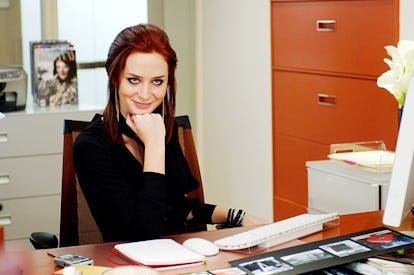 20th Century Fox/Everett Collection
If you finished watching (or reading) The Devil Wears Prada and thought, 'It's great that Andy got her dream job and Miranda became a slightly less horrible person, but what the hell happened to Emily?' then you're in luck: Eleven years later, we're finally going to get the answer to that pressing question. Emily—aka character played by Emily Blunt in The Devil Wears Prada—is getting her own sequel.
Lauren Weisberger's latest novel, titled When Life Gives You Lululemons, follows Miranda Priestly's former first assistant into present day, where she's married to a man named Miles, living in Greenwich, Connecticut, and working as an A-List image consultant.
The book won't be released until June 5, 2018, but Entertainment Weekly shared an exclusive sneak peek at the first chapter Monday, and it is everything you could possibly hope for. The story begins with Emily "sipping a skinny margarita" at a New Year's Eve party at Gigi Hadid's house in Los Angeles (direct quote: "I'm at Gigi Hadid's house and not nearly as drunk as I should be.") before being summoned back to New York ("her first and truest love") to deal with a crisis after one of her clients ("the new Bieber") shows up at a nightclub wearing full Nazi garb.
Aside from some very quotable lines, the first chapter doesn't reveal a whole lot about what our dear Emily has been up to for the past decade, so here's hoping the full novel answers a few pretty important questions: What happened after Emily was disinvited from Paris Fashion Week? Do she and Miranda keep in touch? Is she still wearing Andy's Chanel hand-me-downs? Has she discovered any new cheese-cube diets (or stomach flu strains) worth testing out?
No word yet on whether When Life Gives You Lululemons will be made into a movie (Emily Blunt, are you listening?), but here's hoping we'll get to see Emily make Lululemonade on the big screen someday soon.