"Hot Felon" Jeremy Meeks and Topshop Heiress Chloe Green Just Had a Baby
There's another celebrity baby in town.
---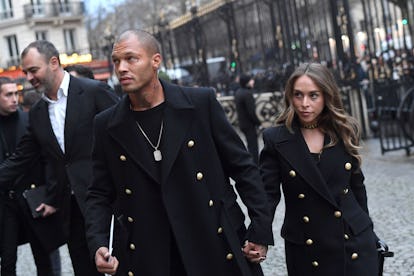 Jacopo Raule/Getty Images
We're only halfway through the year, and there is already yet another celebrity baby who has been born into the mix. "Hot felon" Jeremy Meeks and Topshop heiress Chloe Green, who have been dating since May 2017, have announced that they have welcomed a baby boy into the world.
Green and Meeks revealed that they were expecting a child in March, and took to Instagram for the announcement of the birth of their son, Jayden Meeks-Green, on June 7. "Born May 29th 2018. Mommy and Baby both doing well. We kindly ask to respect our privacy," the 34-year-old Meeks wrote in the caption of a photo of his newborn's hands.
Jayden is Green's first child, but Meeks has raised two stepchildren and a son named Jeremy Meeks Jr. from his previous marriage to Melissa Meeks. The couple was married for 10 years, and had yet to separate when he began dating Green, the heiress to the British retail store. In 2018, they officially divorced.
Prior to their debut as a couple, Meeks gained notoriety as a "hot felon" after the Internet got ahold of his viral California mug shot in 2014. His piercing blue-green eyes and abundance of tattoos landed him a modeling contract, and he made his runway debut at New York Fashion Week in 2017, followed by appearances at Milan Fashion Week later that year.
Since Meeks met Green, they have been one of the fashion world's most unexpected pairings; nevertheless, they regularly post about how much they love each other on Instagram.
Related: A Guide to the Many, Many New Celebrity Babies of 2018 (So Far)