Coco Rocha Announces Birth of Baby Boy
And he's already super photogenic.
---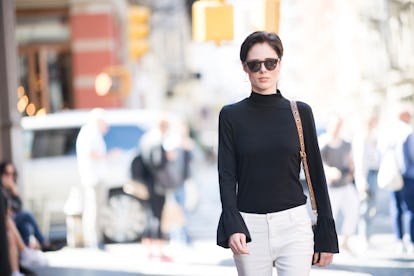 Timur Emek/Getty Images
Coco Rocha is now a mother of two. The model gave birth to her second child on Friday, a boy named Iver Eames Conran. Rocha shared the news on Instagram, captioning an adorable photo of mom and baby. "My baby boy, Iver Eames Conran. 7lbs 10oz of pure wonder," she captioned the image.
Rocha's Instagram followers already knew the baby was on its way; she posted a photo featuring her in a hospital gown, captioned "Here we go…" early Friday morning. Her entire second pregnancy has unfolded on her account, from the elegant baby shower held earlier in the month to an album featuring her showing off her very noticeable baby bump from her first pregnancy and her second (both in the same maternity top).
Rocha already has a daughter, three-year-old Ioni James Conran, with husband James Conran. Inoni made her runway debut, following in her mother's footsteps at Paris Fashion Week this past January. She appeared in the Jean Paul Gaultier spring 2018 along side her mom, both mother and daughter wearing matching blue tunic style dresses, black gloves, and some very daring up-dos.
Ioni seems to be easily settling into her role as a big sister. She made Rocha's pregnancy public when she explained, "Surprise, there's a baby in mommy's tummy!" in an Instagram video Rocha posted in December.
And of course, Iver already has his own Instagram account, boasting 3,643 followers — to rival his mom's 1.2 million followers — in the mere hours since his birth. The account, whose profile jokingly reads, " Account monitored by Mom and Dad," also shared two images of the new baby and Rocha.
Related: Coco Rocha Wears Her Own Line Better than Anyone Else