Dakota Johnson Is Not Pregnant, but She Will Be a Godmother
The actress herself is not pregnant, but there is going to be a new baby in her life.
---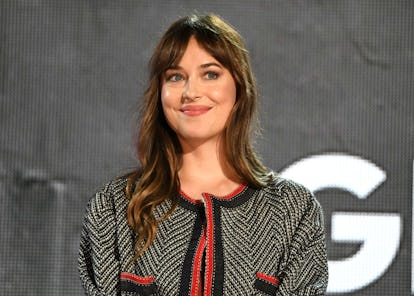 Michael Kovac/Getty Images
Dakota Johnson and Chris Martin have remained notoriously private about their relationship, despite the fact that they have been romantically linked for about a year. The actress has remained so private that she recently told Tatler, "I'm not going to talk about it, but I am very happy," and such an admission was considered groundbreaking in terms of reporting on the romance between the two. But on October 8, TMZ reported that the two were moving their relationship to the next step.
The hullabaloo all started when TMZ reported that Martin and Johnson held a gender reveal party for their unborn baby on Saturday, October 6. Guests of the party included Johnson's parents, Melanie Griffith and Don Johnson, as well as Julia Roberts and Sean Penn. Even though the couple often decline to talk about it, signs do point to Johnson and Martin fostering a solid relationship (they reportedly recently got matching infinity symbol tattoos), but those same signs do not necessarily point to a secret pregnancy and a covert gender reveal party taking place just two days after Johnson's 29th birthday.
Something about the equation reported by TMZ just did not quite add up. First, the sex of the baby is typically made available to the parents anywhere between 16 and 20 weeks, if they choose to know. That would have to place Johnson at four- to five-months pregnant, and a first-time mother would likely have a small baby bump by the four-month mark. Johnson was spotted wearing a crop top at a press conference on September 23, and if she wanted to hide a baby bump from the public, why would she make the choice to show her midsection so clearly?
The timing of the gender reveal party also raises more questions. Johnson has not one but two thrilling films to promote this season—Suspiria and Bad Times at the El Royale. Why would anyone plan such an important party about a secret pregnancy in the middle of the press cycles for two of the season's biggest films? And why would anyone involved in this operation plan this sort of event mere days after Martin's ex Gwyneth Paltrow (the two remain on good terms) married Brad Falchuk in Montauk?
Also, after two arcs of balloons—one pink, the other blue—were visibly fastened above the property, the blue balloons came loose, leaving the pink ones behind. TMZ interpreted the lost blue balloons as indicating that the baby is a boy, but the logic behind that does not entirely make sense. Might the average partygoer not assume that the pink balloons left behind were the ones that indicated the sex of the baby? Why not just keep one color balloon hidden and reveal the "right" one at the time of the announcement? And what if one of the balloon arcs just came loose accidentally? Also, if they were trying to keep it a secret, why have the decoration extend beyond the height of the walls, and why let Melanie Griffith, Johnson's mother, Instagram it all? These were the unanswered questions elicited from TMZ's report of the supposed gender reveal party at Martin's house that night.
Finally, after enough of a frenzy bubbled up online, and after plenty of sleuthing fans of the actress and the Coldplay singer pieced together the impossibility of a hidden pregnancy, one of Johnson's representatives exclusively told People that she is not pregnant, and was not celebrating the gender reveal of an unborn baby with Martin, despite the pink and blue balloons that hovered over Martin's home the evening of the party. Johnson was reportedly just celebrating her birthday on Saturday night, but there is going to be a new baby in her life. That same weekend, Johnson's friend the actress Addison Timlin announced on Instagram that Johnson would be the godmother of her baby with the Shameless star Jeremy Allen White (who, incidentally or not, is costarring with Julia Roberts in Homecoming).
Everyone can rest soundly now that it has been established that Johnson was not holding some sort of covert, heteronormative party for a secret baby, and was just celebrating her 29th birthday at her boyfriend's house instead, surrounded by her family and friends, or perhaps hosting a baby shower for her BFF she'd rather keep private.
Related: Dakota Johnson's Beauty Evolution, From California Girl Next Door to Full-Blown Movie Star