Eddie Redmayne and Hannah Bagshawe Welcome Second Child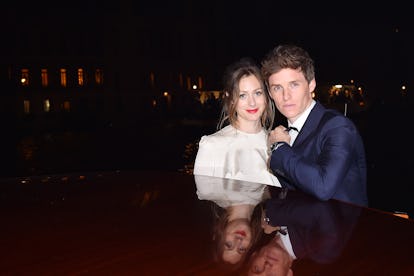 Photo by Jacopo Raule/Getty Images for OMEGA
Congratulations to Oscar-winning actor Eddie Redmayne and his wife, PR executive Hannah Bagshawe! Bagshawe just delivered the couple's second child, a son named Luke Richard Bagshawe. Britain's The Times announced the news on Saturday in its Births section.
This is the second child for Redmayne and Bagshawe. They welcomed their daughter, Iris Mary, in June 2016. The couple announced back in November that they were expecting a second child.
According to The Sun, the pair met while Redmayne was a teenager at Eton College and Bagshawe was at a nearby girls' boarding school. "They began a 12-year-long friendship but that eventually turned to love in 2012 when Eddie invited her on a trip to Florence during downtime from shooting for Les Miserables," The Sun explains, adding that the couple married two years later. Since then, Redmayne has gone on to have major success with roles in The Danish Girl and as Hogwarts dropout Newt Scamander, the lead of Harry Potter spin-off franchise Fantastic Beasts and Where to Find Them.
Of course, he also won the Academy Award in 2015 for his portrayal of Stephen Hawking in The Theory of Everything. Sadly, the real Hawking passed away last week at the age of 76, and Redmayne released a statement expressing his admiration for the scientist.
As neither parent appears to be on social media, it's unlikely that we'll get much by way of updates on these kids. Brits tend to be a little less showy than Americans, after all. But hopefully we can get a cute anecdote or two once Redmayne hits the press circuit for Fantastic Beasts: The Crimes of Grindelwald, due in theaters November 16.
Congratulations and best wishes to the growing Redmayne-Bagshawe family!
Related: The Wizards Return to Hogwarts in Fantastic Beasts: The Crimes of Grindelwald First Official Trailer