The Wizards Return to Hogwarts in "Fantastic Beasts: The Crimes of Grindelwald" First Official Trailer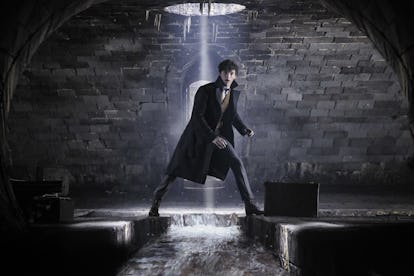 Jaap Buitendijk/Getty Images
Harry Potter fans, brace yourselves: The first footage from the upcoming Fantastic Beasts sequel, Fantastic Beasts: The Crimes of Grindelwald is here.
The first trailer finds us right back at Hogwarts, where a group of Aurors question a young Albus Dumbledore, played by Jude Law, about the actions of one Newt Scamander, aka Eddie Redmayne. This time, Newt is headed to Paris to collect some more fantastic beasts and get into a heap of trouble.
"The time's coming, Newt, where you're going to have to pick a side," Dumbledore says as the words, "Who will stand against the darkness," appear on the screen. Dumbledore also tells Newt, "I can't move against Grindelwald; it has to be you," as a shot of Johnny Depp as titular character Gellert Grindelwald appears. We also get a magical first look at Zoë Kravitz as Newt's Hogwarts sweetheart, Leta Lestrange.
Watch the trailer here:
The movie is set to hit theaters on November 16, but so far, there has been very little information released about the sequel to the 2016 movie. The first Fantastic Beasts movie followed Newt, a magizoologist, to 1920s New York City where he battled Grindelwald — oh, and accidentally releases a bunch of magical creatures into the city. The plot of the second movie, though, is still a bit murky. Its official description reads, "In an effort to thwart Grindelwald's plans, Albus Dumbledore enlists his former student Newt Scamander, who agrees to help, unaware of the dangers that lie ahead. Lines are drawn as love and loyalty are tested, even among the truest friends and family, in an increasingly divided wizarding world."