Despite Allegations of Domestic Violence, J.K. Rowling Is "Genuinely Happy" to Have Johnny Depp in Fantastic Beasts
"The filmmakers and I are not only comfortable sticking with our original casting, but genuinely happy to have Johnny playing a major character in the movies," Rowling wrote on her website.
---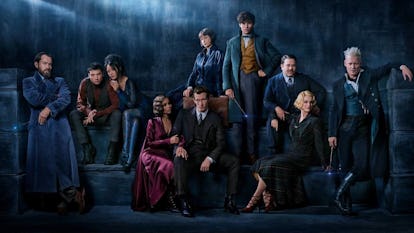 Courtesy Warner Bros.
In Thursday's edition of unpleasant news, Harry Potter author J.K. Rowling published a detailed statement in support of the casting of Johnny Depp, in spite of his ex-wife Amber Heard's accusations of domestic violence, in Fantastic Beasts: The Legend of Grindelwald, the upcoming film addition to the Harry Potter universe. (In addition to writing the book on which Fantastic Beasts was based, Rowling also penned the screenplays.) Depp played the titular Grindelwald in the first Fantastic Beasts installment in a brief cameo appearance—and, around the same time, he was accused of abuse by Heard in the course of their fraught divorce proceedings last year. Despite that, and despite substantial outcry from fans, the team behind The Legend of Grindelwald declined to recast Depp's role.
Less than a year after Fantastic Beasts and Where to Find Them began shooting, Heard and Depp separated, and in court filings, Heard accused Depp of violence towards her, even taking out a restraining order against him in May 2016. Two months later, the divorce was finalized, and Heard donated her entire $7 million settlement to the ACLU and the Children's Hospital Los Angeles, both emphasizing assistance for women and children in crisis.
During the course of these events, and particularly in the two months since the Harvey Weinstein investigation seemingly opened a floodgate of stories of sexual misconduct by men in Hollywood, Depp's ongoing affiliation with Harry Potter prompted backlash from the avid Harry Potter fandom—which Rowling acknowledged in a new statement she posted to her website Thursday. Depp's repeat casting was officially announced just three weeks ago, when allegations of misconduct against prominent actors and filmmakers had already become a daily occurrence.
"Around the time of filming his cameo in the first movie, stories had appeared in the press that deeply concerned me and everyone most closely involved in the franchise," Rowling admitted in her statement. "As David Yates, long-time Potter director, has already said, we naturally considered the possibility of recasting. I understand why some have been confused and angry about why that didn't happen." But, she continued, "the agreements that have been put in place to protect the privacy of two people, both of whom have expressed a desire to get on with their lives, must be respected. Based on our understanding of the circumstances, the filmmakers and I are not only comfortable sticking with our original casting, but genuinely happy to have Johnny playing a major character in the movies."
Though Rowling had not previously spoken out about Depp's casting—and on her Twitter, she wrote, "I'm saying what I can about the Grindelwald casting issue here," accompanying a link to her statement—she had previously acknowledged the controversy over Twitter, at least tacitly. Last week, a Twitter user, @hobbitlindsey, pointed out a double standard in the franchise's casting—"So if I understand correctly the actor who played Crabbe, a minor character, was fired from Harry Potter for doing drugs. Yet Johnny Depp, who abused his wife, gets a major role in your movies? Correct me if I'm wrong," she wrote, tagging @jk_rowling. Rowling promptly blocked her without responding.
Rowling's eventual statement echoed the sentiment of director Yates, who also supported Depp's casting in an interview with Entertainment Weekly. "There's an issue at the moment where there's a lot of people being accused of things, they're being accused by multiple victims, and it's compelling and frightening," he said, acknowledging the so-called Harvey Weinstein moment. "With Johnny, it seems to me there was one person who took a pop at him and claimed something. I can only tell you about the man I see every day: He's full of decency and kindness, and that's all I see. Whatever accusation was out there doesn't tally with the kind of human being I've been working with." (This in itself echoes other statements that have been released in opposition to accusations of sexual misconduct, like the open letter signed by the "SNL Women" in support of Al Franken: "In our experience, we know Al as a dedicated and devoted family man, a wonderful comedic performer, and an honorable public servant," the letter read.)
As a counterpoint, just more than a week after Star Trek actor Anthony Rapp accused Kevin Spacey of unwanted sexual advances, thereby opening up a gateway for many more allegations of sexual misconduct, director Ridley Scott decided to recast the Oscar winner's role in All the Money in the World, his upcoming film about oil magnate J. Paul Getty. It was a bold, near-unprecedented move: All the Money in the World had already been cut, but it was pulled from AFI Fest and, with just six weeks till its scheduled Dec. 22 release date, the deadline was perilously tight. But Scott, with the support of cast members Michelle Williams and Mark Wahlberg, managed to reshoot Spacey's scenes with actor Christopher Plummer, igniting a cottage industry of social media users proposing Christopher Plummer fill in for other problematic castings, no matter how absurd.
Scott's decision also demonstrated logistic obstacles are no longer—nor, really, were they ever—a sufficient reason to excuse the participation of an accused sexual abuser in a film. This was after a film had already been through production; Fantastic Beasts has not even begun filming.
Rowling ended her statement with a pronouncement that echoed the tone of one of her most-quoted characters, Dolores Umbridge. ("Progress for progress's sake," et cetera.) "I accept that there will be those who are not satisfied with our choice of actor in the title role," she wrote. "However, conscience isn't governable by committee. Within the fictional world and outside it, we all have to do what we believe to be the right thing." The right thing, though, might be to recast Christopher Plummer as Grindelwald.
Related: See Christopher Plummer Take Over for Kevin Spacey in New All the Money in the World Trailer
"I Will Not Be Silent": Hollywood's Biggest Names Pledge to Speak Up Against Sexual Assault