Stephen Hawking's Death Mourned by Eddie Redmayne, Neil DeGrasse Tyson, and Many More
The stars praise the intellect and humor of the late theoretical physicist Stephen Hawking.
---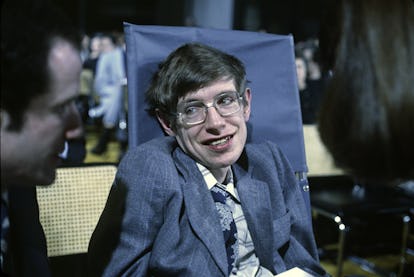 Santi Visalli/Getty Imagessteph
Professor Stephen Hawking, the visionary theoretical physicist known for his work on relativity, black holes, and cosmology, died Tuesday night at the age of 76.
Despite being given just a few years to live after receiving a diagnosis for amyotrophic lateral sclerosis (ALS) in 1963, Hawking became a renowned physicist who remains well-known for his book, A Brief History of Time, about the study of the universe. While he was mostly unable to move or speak, save through a computerized vocal synthesizer, Hawking continued his work on black holes and energy, discovering a phenomenon known as Hawking radiation, and becoming the first scientist to theorize the study of the universe in terms of relativity and quantum mechanics. In other words, he theorized that both space and time have a beginning (a Big Bang) and an ending (black holes). In the latter years of his career, he continued to attend technology and science conferences around the world.
Hawking's work won him major popularity outside of the scientific field; his story of overcoming adversity to become one of the most celebrated scientists of the 20th and 21st centuries has inspired many; he fought for government funding for the sciences in the United Kingdom; he was portrayed numerous times in television and film; and he was renowned, too, for his sense of humor.
Eddie Redmayne, who gave an Oscar-winning performance as Hawking in the 2014 film The Theory of Everything, released a statement praising the physicist for his intellect and humor. "We have lost a truly beautiful mind, an astonishing scientist and the funniest man I have ever had the pleasure to meet," Redmayne said.
Benedict Cumberbatch, who also played Hawking in a BBC TV film, echoed Redmayne's sentiments in a statement shared with The Hollywood Reporter. "I feel so lucky to have known such a truly great man whose profundity was found both in his work and the communication of that work. Both in person and in books. He virtually created the publishing genre of popular science," Cumberbatch said. "A heroic feat to bring the wondrous complexities of the universe to all outside of specialists in this field. But truly courageous when considering it was achieved by a man who lived a life trapped in his body from the age of 21 when he was diagnosed with motor neurone disease. His support of the sciences, art, education and the NHS and charities such as the MND foundation will also live on as will his wickedly funny sense of humor. I will miss our margaritas but will raise one to the stars to celebrate your life and the light of understanding you shone so brightly on them for the rest of us."
Fellow scientists such as Neil DeGrasse Tyson, and celebrities from Sam Smith to Bette Midler took to Twitter and Instagram to share their condolences and honor the words of Hawking.
{#instagram: https://www.instagram.com/p/BgSuXjBHO9S/]