Chrissy Teigen Posts First Photo of Her Two Children Together
Luna and Miles are giving all the other celebrity siblings a run for their money.
---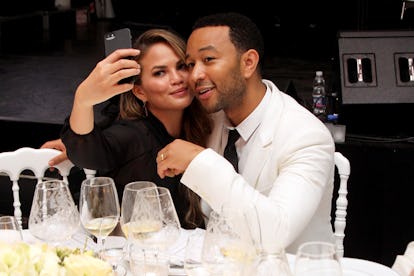 Andrew Goodman/Getty Images
For Chrissy Teigen's kids, it looks like sibling rivalry won't be a problem any time soon.
Teigen shared her first photograph of her newborn baby, Miles Stephens, just three days after his birth, writing, "Hello, world! This is Miles Theodore Stephens – We are drowning in his little peeps and nuzzles. Our household feels overwhelmed with love. Thank you for all your well wishes!"—then on Monday night, she gave her 17 million followers another update on both of her kids.
Teigen's two-year-old daughter, Luna Stephens, appears to be quite gentle with her baby brother, Miles, who is quite new to the world at barely two weeks old, and so far the brother-sister duo seem to be getting along without a hitch. Most older siblings might cry or lament the potential loss of attention that comes with adding a new baby to the family, but that is clearly just not Luna's style. In March, Luna's father, John Legend, told People that she had yet to develop "a concept of exactly what it means to have a little sibling," but it appears that she is warming up to her baby brother rather quickly. Remember, it was Luna herself who first announced her little brother's impending birth to the world in the first place. Her grandfather Ron Stephens caught the two-year-old on camera as she leaned over her infant brother's crib to give him a pacifier, producing a photograph of the kids looking like angels, which Teigen naturally documented on Instagram.
Luna's relationship to her family's newest addition could be placed in contrast to that of another famous celebrity offspring sibling crew—the Wests. Kim Kardashian's oldest daughter, North West, is known to be very bossy to her younger siblings—Kardashian has appeared on a variety of daytime talk shows to let the world know that the eldest West kid barely talks to her little brother Saint West, and does not like to share with him at all. But that is hardly the case for Saint, who recently showed his little sister Chicago some love in a sweet photo shared by Kardashian.
We have hardly any idea what Beyoncé's twins, Rumi and Sir Carter, look like, let alone what it must be like to grow up with Blue Ivy for a sister, but considering the way she bosses her own grandmother around, it could be safe to say she might be handling her big-sibling duties the North West way.
In any case, it looks like baby Miles doesn't have it so bad if his big sister is willing to treat him like a baby of her own.
Related: Donald Trump Can No Longer Legally Block Chrissy Teigen or Anyone Else on Twitter
Chrissy Teigen Really, Truly Had the Best Summer of Us All
Luna Simone threw out the first pitch at the Mariners vs. Twins game in Seattle, Washington, June 2017.

@chrissyteigen
John Legend, proud dad, prepares for the first pitch—to be thrown by daughter Luna—at a June Mariners vs. Twins game in Seattle, Washington, June 2017.

@johnlegend
Luna, in a custom Mariners jersey, on the field with parents Chrissy Teigen and John Legend during the game where she threw the first pitch in Seattle, Washington, June 2017.

@chrissyteigen
Legend, Teigen, and Luna make the most of a tour stop in Chicago, Illinois, taking in the Lincoln Park Zoo (with a giraffe for company), June 2017.

@johnlegend
Chrissy Teigen with Luna Simone in Laguna Beach, California, June 2017.

@chrissyteigen
Chrissy Teigen traveled to Boston to wish John Legend a happy Father's Day while he was on tour, June 2017.

@chrissyteigen
John Legend with a very curious Luna Simone in Bali, July 2017.

@johnlegend
The whole family traveled to the Indonesian island of Bali, trying out some traditional looks along the way, July 2017.

@chrissyteigen
Teigen with her daughter Luna in Bali, July 2017.

@chrissyteigen
Teigen played paparazzi to her husband and daughter when they stopped in Lake Como, Italy, July 2017.

@chrissyteigen
Next stop, Venice, Italy, where Teigen has been Instagramming her (it bears saying, impossibly chic) adventures with her daughter, August 2017.

@chrissyteigen
The best mother-daughter dates are the ones on the pedestrian streets of Venice, as Luna and Chrissy Teigen demonstrate all too well.

@chrissyteigen