Donald Trump Can No Longer Legally Block Chrissy Teigen or Anyone Else on Twitter
"Well, well, well, we meet again."
---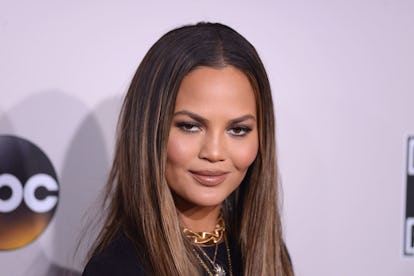 C Flanigan/Getty Images
Today, in a victory for the First Amendment and Twitter users, a federal judge ruled that Donald Trump can no longer block people on the social media platform. In her ruling on a lawsuit against the President from citizens he's blocked on Twitter, Judge Naomi Reice Buchwald reasoned that Trump's Twitter is a "public forum" and would therefore block freedom of speech if he censored who was allowed to participate within it, as NBC points out.
There may be no one happier about the ruling than Chrissy Teigen, noted Twitter expert, who landed on Trump's block list last summer. It didn't take long after Trump lost the lawsuit for Teigen to surface on Twitter with a retort. "Well well well we meet again @realDonaldTrump," she tweeted, along with a video of MSNBC discussing the ruling.
Teigen became a member of Trump's blocked-users group after she responded to a tweet from the president that said, "It's very sad that Republicans, even some that were carried over the line on my back, do very little to protect their President." "Lolllllll no one likes you," she replied. Once Teigen realized that her response provoked further action, she posted a screenshot confirming that Trump had blocked her. "After 9 years of hating Donald J Trump, telling him 'lol no one likes you' was the straw," she wrote.
Trump never addressed her by name—neither on Twitter, where he's made a habit of denouncing his detractors with all-caps accusations, nor in the media, where he routinely freestyles about whatever's on his mind that day. He did, however, retweet someone else's opinion of Teigen, a "trashy gutter mouth woman," in 2015. She later addressed the incident, tweeting, "Well, not many people can say the president of the United States called them a trashy gutter mouth through Twitter retweets."
Now that Trump will be forced to unblock Teigen, perhaps he'll notice some of her other burns throughout the years. There was the time he tweeted, "We must keep 'evil' out of our country!" and she responded, "What time should we call your Uber?"
Who can forget her dark humor after the "covfefe" incident? "I just no longer find trump trending topics or memes funny," she wrote. "I get sad and angry and depressed. Fck covfefe, fck it all, stupid idiot."