A Brief History of Donald Trump and Chrissy Teigen's Storied Relationship on Twitter—Before the President Blocked Her
"Lolllllll no one likes you" was apparently too much for the president.
---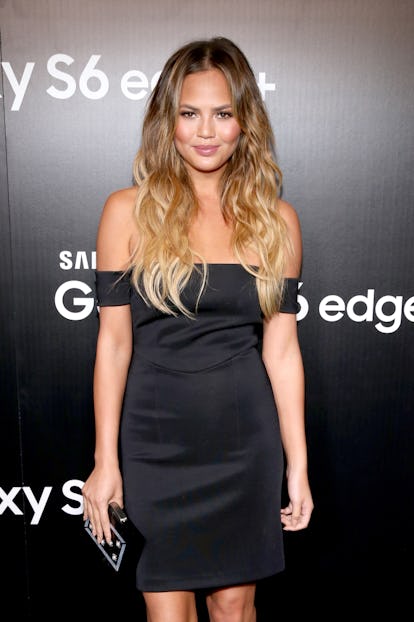 Jonathan Leibson/Getty Images
Last October, Chrissy Teigen, the model, cookbook author, professional social media wit, and owner of a Twitter account with nearly 3 million followers, decided to make her account private.
"It's not haters or trolls or generally mean people. I just feel like I am absorbing things 24/7," she tweeted to those who still had access to her account. "My body and mind cannot handle it anymore."
But then came election season and the need to speak up, which is exactly what Teigen did to her then doubled follower count—by the time she again made her account public. Much of her feed is admittedly dedicated to her home life with her husband John Legend and their newborn, Luna—plus her constant musings on food, from her culinary techniques to polls about the consistency of chowder—but Teigen has definitely taken care to once again raise her voice politically, too.
Like Broad City's Ilana Glazer, Teigen has become one of the chief celebrities to troll Trump on the site—though she actually took up the cause all the way back in 2011, when she first started calling Trump out on everything from his so-called friendship with Hulk Hogan to his crusade to get Barack Obama to release his birth certificate.
Though it doesn't appear that Trump has ever responded to Teigen directly, her tweets did seem to be getting to him: In 2015, he retweeted someone who called Teigen a "trashy gutter mouth woman." Teigen, for her part, escalated her barrage of tweets in 2016, but Teigen has mostly gone silent this year.
That changed this week, when Trump tweeted "It's very sad that Republicans, even some that were carried over the line on my back, do very little to protect their President"—to which Teigen replied "Lolllllll no one likes you."
Trump responded in the grown-up, presidential manner we've come to expect him—he blocked Teigen.
Such ends the saga between the pair—at least for now. Earlier this month, some of those on the long list of Twitter users blocked by Trump banded together to sue the president and two top White House aides, with the argument that as a government official, Trump cannot bar people from his account because he uses it as a "kind of digital town hall," making it essentially a public forum.
Since most of the blocking has come after criticisms of the president and his administration, there's also a question of whether Trump is actually violating the First Amendment by blocking users. Though there've been no further moves on the lawsuit since earlier this month, it looks like the group has a new Twitter victim ready to take up their cause.
Related: Are the First Ladies of the World Uniting to Spurn Donald Trump?
Chrissy Teigen Talks About Posing Topless: