Are the First Ladies of the World Uniting to Spurn Donald Trump?
It seems like Japan's Akie Abe even pretended to not speak English in order to get out of talking to Trump.
---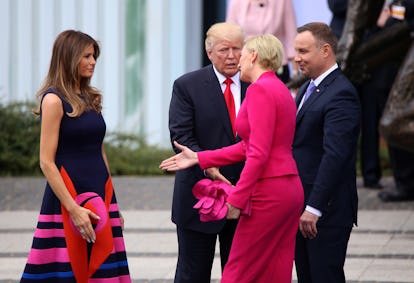 NurPhoto/Getty Images
State meetings usually aren't the most glamorous affairs, but earlier this month, the Polish first lady Agata Kornhauser-Duda turned President Donald Trump's meet-and-greet with her and her husband, Polish president Andrzej Duda, into one of the most memorable burns commemorated in the internet's history when she went in for a handshake with Trump, only to expertly snub him—and all in a can't-miss neon pink suit.
In effect, she was giving Trump a taste of his own medicine: the president is known for a history of bizarre, at times blatantly sexist handshakes, like when he grabbed and sized up the French first lady Brigitte Macron, and then declared her to be both "beautiful" and "in such good shape," and when he denied the hand of German chancellor Angela Merkel during a photo op at the White House.
Still, the women leaders around the world have found a way to return the favor—including, famously, the President's wife Melania, who swatted her husband's hand away in May when he went to hold hers almost immediately upon landing in Tel Aviv.
It's no surprise, then, that Melania and Kornhauser-Duda's sentiments were even more pronounced earlier this month at the G20 summit, not only after Trump made his comments to Macron, but after Trump withdrew the U.S. from the Paris Climate Accord, a drastic decision that immediately drew criticism from the leaders of Germany, Italy, and France.
From Melania Trump to Jacqueline Kennedy, a History of First Ladies' Inauguration Day Style
First Lady Mamie Eisenhower, 1957

Getty Images
It turns out that in addition to having a secret meeting with the Russian president Vladimir Putin at the summit, Trump also managed to squeeze in another burn at a dinner for the world leaders and their spouses where he was seated next to Akie Abe, the wife of the Japanese prime minister Shinzo Abe. (Melania snagged a "very far away" seat next to Putin at the opposite end of the table.)
"She's a terrific woman, but doesn't speak English," Trump told the New York Times on Wednesday of Abe. "Like, not 'hello,'" he added of how "hard" it was to sit there for "probably an hour and 45 minutes."
"But I enjoyed the evening with her, and she's really a lovely woman, and I enjoyed—the whole thing was good," Trump took care to add.
He may change his mind about that now that it seems Abe simply didn't want to talk to the president, given that there's plenty of evidence she can speak English. Abe in fact frequently delivers speeches in English, like when she was the keynote speaker at a global Ford Foundation symposium in 2014.
You can't really blame Abe, though, given that earlier this year, her husband went through a 19-second long odyssey of a handshake with Trump, which also included more than a few hand pats. With nearly two hours ahead of them at the dinner table, who knows what Abe would have been subject to.
Brigitte Macron, Carla Bruni, and More: A Brief History of France's First Ladies and Their Front-Row Affair with Fashion
First lady from 1969 until her husband's death in 1974, Claude Pompidou—née Cahour—was instrumental in founding the Centre Georges Pompidou, the contemporary art museum in her husband's name. A noted patron of the arts and avid fashion lover, she was also frequently spotted in the front row of shows like Chanel (pictured here, Spring 1979, with Bernadette Chirac, wife of then-Paris major Jacques Chirac) and palling around with designer Karl Lagerfeld.

PIERRE GUILLAUD/Getty Images
In addition to her public support of the arts and fashion, Pompidou also experimented with her own looks, favoring ensembles by the likes of avant-garde designer Courrèges and Pierre Cardin and opting for then-scandalous pantsuits.

Keystone-France/Getty Images
In addition to her devotion to fashion, Pompidou was also an art aficionado. She redecorated the Élysée Palace with contemporary, of-the-moment pieces; she and her husband regularly visited local galleries; and, a fan of the artist Yves Klein, she was also instrumental in negotiating the look of the Centre Georges Pompidou, which opened after her husband's death.

J. Cuinieres/Getty Images
Pompidou and Chirac, who would eventually become first lady herself, were frequently spotted at Chanel shows together—as here, at Fall 1985—up until Pompidou's death in 2007.

PIERRE GUILLAUD/Getty Images
Following Pompidou, Anne-Aymone Giscard D'Estaing, wife of president Valéry Giscard D'Estaing (1974-1981) picked up the mantle of fashion's first lady. Though never as much of an insider as her predecessor—and far less the art fan, as she and her husband dismantled much of the Élysée Palace's contemporary décor—she nevertheless frequented Givenchy shows. Here, she's pictured with the designer Hubert de Givenchy himself, September 1997.

Bertrand Rindoff Petroff/Getty Images
Though designer Jean-Louis Scherrer's label has since closed up shop, it was a favorite of French politicians throughout the late 20th century; here, Giscard D'Estaing poses with the designer and his daughter, November 2005.

Pascal Le Segretain/Getty Images
President from 1981 to 1995, François Mitterrand was the longest-serving president in French history. His wife, Danielle Mitterrand, focused primarily on human rights issues, pushing the role of first lady beyond its traditionally domestic bounds—yet she was no less chic for it, befriending designers like Yves Saint Laurent, pictured here in 1992.

Bertrand Rindoff Petroff/Getty Images
Each first lady seems to have favored a particular French fashion legend—and for Mitterrand, that legend was Yves Saint Laurent. Here, she sits front-row at the label's Spring 1986 couture show.

Bertrand Rindoff Petroff
And while for Mitterrand, fashion week was less of a pressing concern than for predecessors like Claude Pompidou, she still frequently attended the most exclusive shows. Here, she embraces Pierre Bergé, business and romantic partner of Yves Saint Laurent, before the label's Fall 1992 show.

Bertrand Rindoff Petroff/Getty Images
After cutting her teeth in the front row as the first lady of Paris (her husband Jacques was the mayor for nearly 20 years, from 1977 to 1995), Bernadette Chirac ascended to first lady of France when Jacques was elected president in 1995. He was succeeded by Nicolas Sarkozy in 2007. From Dior to Chanel to Yves Saint Laurent, Chirac took in everything, with friend Claude Pompidou by her side. Here, Chirac is pictured with designer Yves Saint Laurent at the designer's Musée des Arts de la Mode restrospective in Paris, May 1986.

MICHEL GANGNE/Getty Images
As recently as Spring 2013, Chirac has been spotted in the front row, still posing with designer Karl Lagerfeld as if it's 1985 all over again.

Bertrand Rindoff Petroff/Getty Images
Cécilia Sarkozy married French president Nicolas Sarkozy in 1996; they divorced, causing quite the scandal in France, in 2007. (Sarkozy remarried, to the supermodel and singer Carla Bruni, the following year.) But despite her short reign as France's first lady, Sarkozy nevertheless found a place in fashion; here, she's front row with the late designer Sonia Rykiel at the Yves Saint Laurent Fall 1993 show.

Bertrand Rindoff Petroff
After divorcing Cécilia, Nicolas Sarkozy remarried, wedding Carla Bruni, the French-Italian supermodel and singer who had walked many of the same runways at which she'd later sit front row. Here, she walks Chanel Spring 1989 during Paris Fashion Week, October 1988. (She didn't marry Sarkozy until 2008.)

Victor VIRGILE/Getty Images
Bruni's eye for fashion was among the most remarked of recent first ladies; arriving in London for a state dinner, she wore a Dior ensemble complete with a pillbox hat that, at the time, many noted for looking like a contemporary update on the Jackie Kennedy image of a first lady.

Olivier SANCHEZ/Getty Images
And, of course, the selfies—here, with Karlie Kloss, September 2016.

Victor Boyko
Though she never married president François Hollande, who presided over France from 2012 to 2017, Valérie Trierweiler nevertheless took up the front-row place of honor occupied by most first ladies. Here, she appears with designer Raf Simons, then of Dior, at the Dior Spring 2014 show.

Rindoff/Dufour/Getty Images
Pascal Le Segretain/Getty Images
Incoming first lady Brigitte Trogneux, wife of president-elect Emmanuel Macron, already has the requisite front-row credibility befitting a first lady. Here, she sits front-row at Dior's Fall 2015 couture show.

Rindoff/Le Segretain
Trogneux is nearly 30 years Macron's elder; as has been amply reported, she was a teacher at his high school and advised him on a play when he was a young drama student. They married in 2007; she's still a teacher, albeit one who also lands coveted spots at fashion week—here, alongside actress Léa Seydoux at the Louis Vuitton Fall 2016 show.

Rindoff/Le Segretain/Getty Images
Related: Donald Trump Takes It Upon Himself to Tell France's First Lady Brigitte Macron She's "In Such Good Shape"
"Women's Rights Are Human Rights": See 62 Fashion Insiders Speak Out in a Powerful Video for International Women's Day: