Blue Ivy Scolds Grandma Tina Knowles Lawson's Instagram Habits
"You're not supposed to do that."
---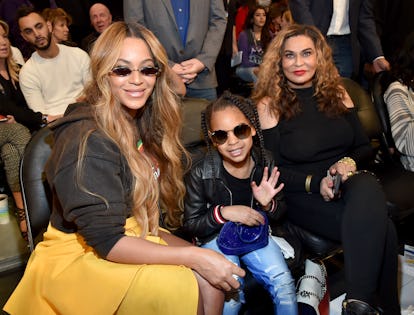 Kevin Mazur/Getty Images
Those memes that suppose it's Blue Ivy who's actually running everything in the Knowles-Carter household? Perhaps not quite as off base as one would think.
The 6-year-old daughter of Beyoncé had some harsh words for her grandmother, Tina Knowles Lawson, when she caught Lawson breaking the rules on a recent grandmother/granddaughter trip to the ballet. Lawson was in the midst of filming a video of the theater for her Instagram feed when Ivy caught onto what she was doing.
'I'm in Paris, France and I'm at the most beautiful theatre I've ever seen in my life about to look at the ballet. Walking ballet is so cool,' Lawson reports to the camera. Offscreen, though, Ivy was having none of it.
"You're not supposed to take videos grandma," she scolds Lawson from the background of the shot. "You're not supposed to."
Miss Tina, of course, won't let anything — including her granddaughter — get in the way of her #content. Lawson, who has 1.6 million followers, never disappoints with her selfies, corny jokes, and videos, even if Beyoncé and Solange — and apparently, Blue Ivy — find them slightly embarrassing.
"When you get my age, you gotta find your light," she previously said in response to finding out Beyoncé didn't love her feed as much of the rest of the world does. "So if you find some good light, you're supposed to take advantage of it."
Scolding grandma's Insta-habits isn't the first time that Blue Ivy has had zero patience for the antics of the adults in her life. In the move that launched a million memes, earlier this year at the 2018 Grammys she allegedly told Beyoncé and Jay-Z to "calm down" when they were clapping too excitedly over Camilla Cabello's speech. Unlike Lawson, they actually listened to her.
In a family of strong women (she doesn't call Queen Bey "mom" for nothing), it's hardly surprising that Blue is already taking charge at the age of six. In addition to bossing around her elders, she also employs her own stylist, and once casually bid $19,000 in an art auction.
Related: Blue Ivy Wore a Gucci Dress to the Beauty and the Beast Premiere
Celebrity Moms (and Their Kids) on the Red Carpet and Front Row
Reese Witherspoon and daughter Ava Phillippe attend the European Premiere of A Wrinkle In Time at BFI IMAX on March 13, 2018, in London. Photo courtesy of Getty Images.

Karwai Tang
Beyonce and Blue Ivy Carter attend the 2016 MTV Video Music Awards at Madison Square Garden on August 28, 2016, in New York City. Photo courtesy of Getty Images.

Kevin Mazur
Actress Peggy Lipton and actress daughter Rashida Jones attend Revlon's Annual Philanthropic Luncheon at Chateau Marmont on September 27, 2016, in Los Angeles. Photo courtesy of Getty Images.

David Livingston
Kate Hudson and her mother, Goldie Hawn, attend the Versace show as part of Paris Fashion Week Haute Couture Spring/Summer 2015 on January 25, 2015, in Paris. Photo by Michel Dufour/WireImage.

Michel Dufour
Lisa Bonet and Zoe Kravitz attend the 2018 Vanity Fair Oscar Party hosted by Radhika Jones at Wallis Annenberg Center for the Performing Arts on March 4, 2018 in Beverly Hills, California. Photo courtesy of Getty Images.

George Pimentel
Meryl Streep and her daughter, Mamie Gummer, attend the 29th Annual Citymeals-On-Wheels Power Lunch for Women at the Plaza Hotel on November 20, 2015, in New York City. Photo courtesy of Getty Images.

Gary Gershoff/Getty Images
Anna Cleveland and Pat Cleveland attend the premiere of "House Of Z" hosted by Brooks Brothers with the Cinema Society at Crosby Street Hotel on September 7, 2017, in New York City. Photo courtesy of Getty Images.

Steve Zak Photography
Jada Pinkett and Willow Smith—the newly minted Chanel ambassador—at the Chanel Fall 2016 presentation during Paris Fashion Week, March 2016. Photo by Getty Images.

Getty
Beyoncé, Blue Ivy Carter, and Tina Knowles attend the 67th NBA All-Star Game: Team LeBron Vs. Team Stephen at Staples Center on February 18, 2018, in Los Angeles. Photo courtesy of Getty Images.

Kevin Mazur
Liya Kebede, in Proenza Schouler, took the whole family to the Glamour Women of the Year awards, November 2011. Photo by Getty Images.

Getty
Cindy Crawford and her daughter, Kaia Gerber, attend the Vogue Italia "The New Beginning" Party during Milan Fashion Week Spring/Summer 2018 on September 22, 2017, in Milan. Photo courtesy of Getty Images.

Venturelli
Natalia Vodianova and daughter Neva Portman at the Naked Heart Foundation's Fabulous Fund Fair in London at Old Billingsgate Market on February 20, 2016, in London. Photo courtesy of Getty Images.

David M. Benett
Actress Gwyneth Paltrow and her mother, actress Blythe Danner, attend Baby Buggy Summer Dinner on July 30, 2011, in East Hampton, New York. Photo courtesy of Getty Images.

Gary Gershoff
Julianne Moore is a fixture of the front row during Fashion Week, but less often is she spotted with daughter Liv Freundlich. Here, they attend the Bottega Veneta Fall/Winter 2018 fashion show at New York Stock Exchange on February 9, 2018, in New York City. Photo courtesy of Getty Images.

Jamie McCarthy
Victoria Beckham—in her own design—brought son Brooklyn Beckham as her date to the Glamour Women of the Year Awards in New York, November 2015; he later presented her with an award during the ceremony. Photo by Getty Images.

Getty
Madonna, in an infamous black lace dress, at the Vanity Fair* Oscar Party with daughter Lourdes Leon, February 2011. Photo by Rich Schmitt/AFP/Getty Images.

Getty
Lily-Rose Depp rivals her French chanteuse mother Vanessa Paradis in style chops—here, the two appear with Jean-Paul Goude at Chanel Spring 2016 in Paris, October 2015. Photo by Getty Images.

Getty
Model Stephanie Seymour is frequently seen out and about with her model sons. Here she is with son Harry Brant at the 2015 Tribeca Ball at New York Academy of Art on April 13, 2015, in New York City. Photo courtesy of Getty Images.

Gilbert Carrasquillo