Blue Ivy, a 6-Year-Old, Already Has Her Own Stylist
The 6-year-old already has a personal shopper.
---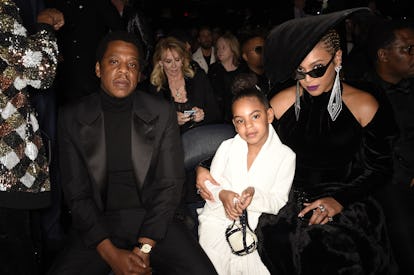 Michele Crowe/CBS via Getty Images
Blue Ivy may only be 6 years old, but she's already lived a life that most adults could only dream of. Last month, Beyoncé and Jay Z's firstborn stole the show at the Wearable Art Gala in Los Angeles, where she bid $19,000 during an art auction while dressed like an Egyptian god in a gold ensemble. As it turns out, Blue didn't just slip on whatever was hanging in her closet that night; her gilded dress and wig were selected by her personal stylist. Yes, Blue Ivy, who was born earlier this decade, has her own stylist, and personal shopper.
Manuel A. Mendez has been curating looks for the older sister of twins Sir and Rumi, as WWD reports. Mendez's only other clients at the moment are in the Knowles-Carter family as he is an employee of Bey's company Parkwood Entertainment, as her rep confirmed to WWD. His Instagram bio confirms the same, where he posts photos of his looks. Most recently, he shared a snap from the Wearable Art Gala with Blue, Beyoncé, Jay-Z, and Tina Knowles and her husband of two years, Richard Lawson. One of the hashtags he used? "#Kidsstylist."
Mendez also styled Blue for her parents' "Family Feud" video, a song on Jay-Z's 4:44 album. In the visual, helmed by Ava DuVernay, Blue wears an adorable feather-topped dress with a custom collar, which Mendez shared on Instagram.
The stylist, who has worked for Parkwood since 2009, is also responsible for Blue Ivy's Gucci looks, including matching bags she wore with her mother last summer. Presumably, he's also the one who dressed Blue and Beyoncé in mother-daughter Gucci for last year's premiere of the live-action Beauty and the Beast.
Mendez also dressed Blue for this past Grammy Awards, where she wore a white Valery Kovalska tuxedo pantsuit with a $2,675 heart-shape Valentino purse that immediately sold out afterwards.
As of this moment, he's probably planning her Coachella looks, as her mom is scheduled to headline the two-weekend festival taking place April 13–15 and April 20–22. Not to mention, Mendez may also be working on Blue Ivy's wardrobe for the upcoming On the Run II tour. Imagine having all those places to be before you even turn 7. Good thing Blue has her own personal stylist.
Related: Beyoncé And Blue Ivy Looked Fabulous At Her Creative Director's Wedding
Blue Ivy Carter Proves It's Possible to Have a Sense of Style at Age 5
Blue Ivy Carter wearing a pink dress, pink shoes, and pink sunglasses (with pink hair beads to match), in March 2017 to see an Alvin Ailey dance performance.

Courtesy beyonce.com.
Blue Ivy Carter and her mother, Beyoncé, wore matching green Gucci dresses (plus Converse) to attend the premiere of Beauty and the Beast in March 2017.

Courtesy beyonce.com.
Blue Ivy Carter attended the 2017 Grammy Awards wearing a pink Gucci suit with a black panther on the back, plus a Prince-inspired ruffle blouse and a glitter cat clutch to match.

Kevin Mazur/Getty Images
Blue Ivy Carter attended the CFDA Awards on June 6, 2016 in New York City with her father wearing a feather-trimmed dress, white blazer, and matching bow.

Robert Kamau/Getty Images
Beyonce and Blue Ivy Carter attended the 2016 MTV Video Music Awards at Madison Square Garden on August 28, 2016 in New York City wearing matching princess gowns.

Larry Busacca/Getty Images
Blue Ivy Carter wore an $1,800 green Gucci dress to the 66th NBA All-Star Game at Smoothie King Center on February 19, 2017 in New Orleans, Louisiana.

Kevin Mazur/Getty Images
Blue Ivy Carter dressed up with her parents, who went as Barbie and Ken for Halloween. Her leather jacket bore the Barbie logo as well.

Courtesy @beyonce.
Beyoncé stepped out in head-to-toe pink Gucci, while her daughter, Blue Ivy Carter, wore a distressed denim, "Slay" jacket and pink Converse sneakers to match.

Courtesy @beyonce.
Beyoncé stepped out in head-to-toe pink Gucci, while her daughter, Blue Ivy Carter, wore a patched denim jacket. But of course, their Gucci bags matched.

Courtesy @beyonce.
Blue Ivy Carter and Beyoncé went for a stroll on Mother's Day in 2016. Carter wore all-pink with flowers in her hair, and her mother complimented her in red and orange.

Courtesy @beyonce.
A young Blue Ivy Carter got into her mother's makeup kit, it seems. Here, she applies lipstick in a sequin tutu with rhinestone stickers on her forehead.

Courtesy @beyonce.