Blue Ivy Carter Bid Thousands Of Dollars On Art Last Night
And Jay-Z tried to stop her.
---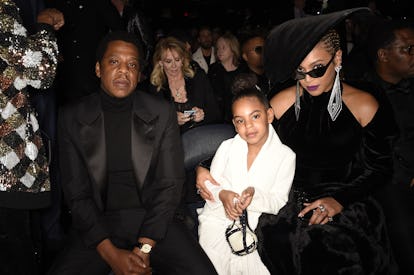 Photo by Michele Crowe/CBS via Getty Images
Putting your St. Patrick's Day plans to absolute shame, the Knowles-Carter family stepped out last night looking incredible while casually bidding thousands of dollars for works of art and accepting awards. But like, no big.
Beyoncé, Jay-Z and their daughter Blue Ivy Carter attended the Wearable Art Gala in Los Angeles together, with mother and daughter matching in gold and both wearing headpieces. At the event, Beyoncé accepted the 2018 Waco Theater Humanitarian Award from "a mother whose daughter is inspired by the singer's success, and who has immensely benefited from the support of the Waco Theater Center," according to Elle. In her acceptance speech, an emotional Ms. Knowles Carter said, "I feel really full, and just, so blessed and so very fortunate… It's a privilege and a responsibility."
In her speech, she also touched on why her charitable works are less publicized than those of her peers saying, "I keep it quiet because I actually feel like I could be doing more…and I think the reason I feel weird reeciving this award from my mother tonight is I think I should be giving her an award." Beyoncé also received the highest honor an American can achieve: an "I love you" from Michelle Obama.
But it was Blue Ivy who stole the show during the auction portion of the evening, when she raised her hand for a bid as high as nineteen thousand dollars. Jay-Z jokingly tried to pull the paddle away from her and tug her arm down while the auctioneer expressed admiration that the family had instilled in little Blue the importance of building an art collection. Now, who knows if the adults were taking the hand-waving of a child seriously, but also, we know she's good for the cash. And just look how happy she is to make this room full of fancy adults laugh!
See more images of the Knowles-Carters at the Wearable Art Gala:
Related: Beyoncé and Jay-Z Announce They'll Hit the Road Together This Summer on a Joint Tour