Apparently Beyoncé's Son Sir Has Another Twin in the Family
He and Rumi aren't the only look-alikes in the Knowles-Carter household.
---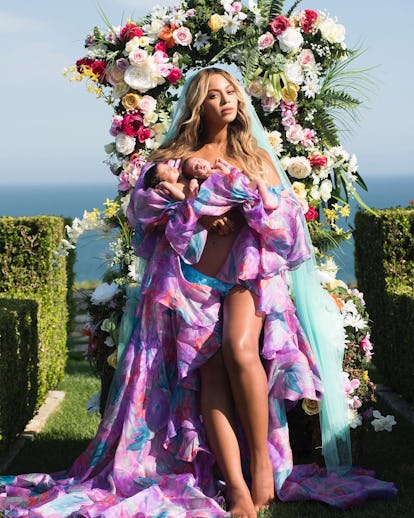 Courtesy of @beyonce
Beyoncé and Jay-Z have certainly worked hard to keep photos of twins Rumi and Sir Carter private—the only official photo we have is the one-month birthday photo Bey shared on Instagram in July—so it's likely safe to say that none of us really know what they look like or which parent they take after the most. That is, none of us except for our main entrée to the Knowles-Carter family empire—the twins' grandmother, Tina Knowles-Lawson.
Even though Sir is twins with his sister Rumi, there's another "twin" of sorts in the family—his father, Jay-Z. Being under the microscope of such speculation as to what the babies look like, of course the topic of the twins came up in conversation when Knowles-Lawson was interviewed at a panel discussion last Saturday. On December 16, the Carter twins' grandmother, Tina Knowles-Lawson, told Us Weekly that Sir has a "mean mug" just like his dad. At UCLA's Ladylike Day, Ms. Tina was ecstatic to give the scoop on how the twins have been doing since their June 2017 birth. Apparently, baby Rumi is all smiles all day long, while Sir tends to scowl a little bit like Jay-Z when he stares, and Blue just couldn't be happier to be the big sister.
Being the matriarch of a powerful musical family is no easy feat, but Knowles-Lawson says she enjoys spending time with her grandkids and the whole family when she can. "Being a grandmother, it's not like being a mom because you don't have to have all the responsibility all the time, but they are amazing," she said to Us.
Ms. Tina is exactly the type of grandmother you'd want to have too—she can tell a good joke, make a good meal, and is absolutely no stranger to embarrassing her daughters or her husband Richard Lawson on Instagram. Just the other day, Knowles-Lawson posted a photo of her daughter Beyoncé's hair with the caption "INCHES!!!! So happy my baby's hair grew back !! She is going to get me ?" in reference to the four-year long drama of Beyoncé and her "real" hair. Ms. Tina is certainly not afraid to just be herself on Instagram, and we love her all the more for it. Her "corny joke series" is exactly what it sounds like, but sometimes she takes it to the next level with a "slightly dirty" joke that no one ever wants to hear their mom tell, even if it is seasonally appropriate. Grandmas will be grandmas, but when little Blue, Rumi, and Sir grow up, theirs will be telling dirty jokes to over a million people.
Related: Beyoncé's Mother Just Weighed In On The Drama Surrounding Her Daughter's Hair