Beyoncé's Mother Just Weighed In On The Drama Surrounding Her Daughter's Hair
To weave or not to weave?
---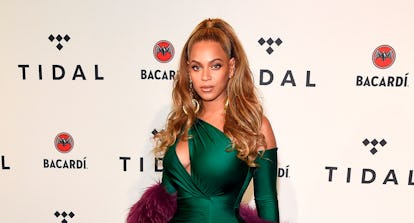 Photo by Kevin Mazur/Getty Images for TIDAL
There is no question that Beyoncé Giselle Knowles-Carter is an unmatched talent and an iconic legend in her own time. There is, however, some debate over whether all of the hair on her head grows out of her scalp, or if she has a little help from the beauty store in that department. That debate was ended, mostly, by her mother Tina Lawson, who posted an Instagram specifying that all of Bey's hair is natural. So, let's break this drama down.
Four years ago, in 2013, Beyoncé posted a series of Instagrams of herself with a pixie-short cut, what many fans interpreted as her "real" hair under whatever wigs, weaves or pieces she sometimes (maybe) wore. It could also have been a cut, or both, but in any case, it's the shortest her hair has ever looked, so let's take that as our starting point.
Four years later, Bey is once again showing very long hair looks. Could all of it have been grown in the last foury ears? Well, sure! It's definitely possible. but it's also a lot of hair to grow that quickly, leading many fans to assume that she had extensions in, especially since we know she uses them to achieve her super-dramatic looks, like this one:
Then there are sleeker styles, which might be a weave or might be from relaxers, like this one:
Her natural hair texture is tight curls, so when she posts a picture like this one, many think she's rocking her natural hair.
In any case, her hairstylist Neal Farinah started weighing in on Instagram, posting pictures of Bey with hashtags like #naturalhair and captions like "NATURAL BEAUTIFUL CURLY HAIR." When some people were still saying that Beyoncé's full, thick hair couldn't be natural, he even posted a video clapping back:
This weekend, her mother posted an Instagram showing just how many inches of Beyoncé's hair are growing out of her head. Captioned "INCHES!!!! So happy my baby's hair grew back !! She is going to get me ?," the photo shows Bey from behind with a long, sleek honey-colored ponytail:
So that should settle it. Ms. Tina would not lie to us.
Related: Beyoncé Wore a Balenciaga T-Shirt, Hot Pants, and $10,000 Saint Laurent Boots on a Private Plane
Beyoncé's Long Curls, Candice Swanepoel's Radiant Skin, and More of the Boldest Beauty Looks of The Week
Model Elsa Hosk takes a detour after the Victoria's Secret Show making a her natural skin and relaxed waves the ultimate travel accessory.

@hoskelsa
Turning heads at the American Music Awards, singer Selena Gomez's new platinum blonde bob takes on a new look for the fall.

@hungvanngo
Victoria's Secret Angel Candice Swanepoel relaxes in Brazil wearing a messy top knot and glowing, radiant skin.

@angelcandices
Model Taylor Hill makes a quick stop in Dubai, wearing a sleek high ponytail with a pop of berry pink lipstick.

@taylor_hill
Model Jasmine Sanders makes voluminous curls and a taupe smokey eye a go-to holiday look.

@golden_barbie
Model Paloma Elsesser bares her natural beauty wearing her relaxed waves, middle-parted with clean skin.

@palomija
Model Joan Smalls is all about the sleek top knot with dewy skin and a soft brown smokey eye.

@joansmalls
Model Kaia Gerber proves that a winged cat eye and a wide-rimmed headband go hand in hand.

@kaiagerber
Model Emily Ratajkowski knows how to relax, making a tousled top knot and a natural pink lip an effortless holiday look.

@emrata
Beyoncé is all about the curls, proving that a long, voluminous ponytail is the ultimate party accessory.

@beyonce